Hinojosa Pleads Guilty to Vicious Dog Stabbing
Thursday, February 7th, 2008 at 10:40 am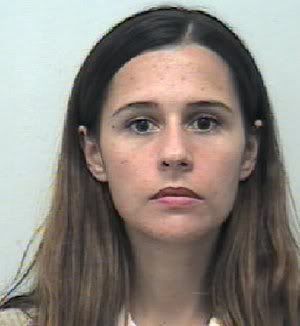 Last May in a fit of anger, this woman, Joanne Hinojosa, 33, stabbed a 20 lb mixed breed dog belonging to her estranged husband 27 times!! The dog had to be euthanized due to its extensive injuries.
In court Tuesday, Hinojosa accepted a plea agreement that if the judge follows at sentencing on March 7, will sentence her to six months in jail with 10 years deferred adjudication. The plea agreement also calls for her to continue mental health counseling, take prescribed medication, undergo anger management treatment and perform 250 hours of community service somewhere other than an animal facility and she cannot own any animal for 10 years.
Hinojosa's lawyer claims stress over her breakup with her husband, a bad childhood and an argument which caused her to snap and take out her anger on the innocent and defenseless little dog. As horrible as that is, I guess we can be thankful that there weren't any small children around!
Initially arrested and charged with cruelty to animals and two counts of criminal mischief; she was also accused of causing more than $1,500 in damage to the cars of her husband and his friend.
The three charges are usually state jail felonies, punishable by up to two years in jail. But the indictment against Hinojosa accuses her of using a deadly weapon, "a knife," which bumps the charge up to a third-degree felony that carries a maximum sentence of 10 years in prison. She also faced a misdemeanor count of domestic assault.
She was originally offered a plea bargain of 8 years which was turned down and it looks like she's getting off light indeed. Her lawyer wanted her to get probation only, saying that eight years in prison was "extreme." I guess it's not extreme to take a knife and viciously stab an innocent living creature again and again and again! So much for justice!!
Hinojosa did plead guilty to criminal mischief for hitting the vehicle of her ex-husband's friend with a shovel and she'll have to pay restitution and serve a concurrent sentence of three years deferred adjudication.
Looks to me like another 'slap on the wrist.' This woman who viciously killed in a fit of anger will be back out on the street soon and God forbid anyone who makes her angry… what id she 'snaps' again??
Source – Houston Chronicle
Email This Post
Like this post? Subscribe to my RSS feed and get loads more!