Home Intruder Gets "Serious" Welcome – VIDEO
Thursday, February 12th, 2009 at 7:33 am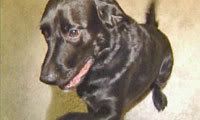 Craig Botkin of Omaha, NE, his wife and four children are safe and sound today after their dog, Serious, got serious when an intruder broke into their home.
Last Thursday, about 4:30 in the morning, the family was all sound asleep when Serious alerted Craig and his wife Janet to something unusual going on.  An intruder had gotten into their garage and by the time he got there all Craig saw was a flash, the intruder that Serious had scared away with his barking.
Once again a dog shows that he really is "man's best friend" and this is one dog that the family may have jokingly called "stupid" but you can bet will forever after be hailed as a hero!
Email This Post
Like this post? Subscribe to my RSS feed and get loads more!