Homes Desperately Needed for 100 Dogs – ACTION ALERT
Thursday, September 11th, 2008 at 7:46 am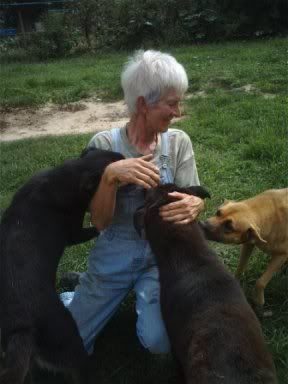 I received this plea yesterday and am passing it along pretty much as I received it. Please take the time to read this story and if you can help in any way, even if just by helping to spread the news, please help!
I am not sure of how the situation stands right now, I do believe this was originally posted last Friday. If you want to help, there is a contact phone number and a contact email.
In a rural area of Rainsville, AL lives an older, somewhat frail woman named Carol Crocker. But don't let her age or size fool you. Carol has been helping dogs for over 10 years. Members of her community as well as Rainsville city employees have brought to her animals found while performing their city duties. The city fathers knew this was taking place and never said anything… until last year.

The mayor has been recorded in court papers saying, "We knew what was going on but we had no where else to take the animals." Now, he wants her shelter abolished. There is no animals control. She now has 101 dogs. Carol isn't a young woman, in fact she's retired and lives on a meager pension from the airlines and social security. Last year her house was burned to the ground and all that's left of her home originally her grandparents, is a lonely chimney and partial fireplace (pic below) of the years of memories she had in this house. This can be confirmed with the fire chief .

I can't divulge how they ruled the fire but I have no doubts they might if validation is needed. She lost many beloved dogs as well as cats in the fire. Some of her animals were far more lucky as they were able to escape or were in the large kennels with shelter she built herself on her 5 acre property.

Carol has been living in her garage since the fire because she had no homeowners insurance and can't afford to rebuild. She has electricity and her running water is from a hose behind the garage. But she's a strong woman. Roughing it doesn't seem to be an issue as her dogs are her life. She may go without but her dogs never do. She sleeps on a wire box spring with a yoga mat on it in the garage. (Pic attached). She showers by using a hose out behind the garage. Two gals, one of which I know personally, took the short hour drive yesterday (Thursday) to see Carol when a plea went out from her sister, Jan Puckett. The original plea didn' t even come close to what was explained but, Carol doesn't complain and her main concerns are her dogs which she loves dearly.

There are no laws in her area of rural Rainsville, AL about how many dogs (animals) you can have and for years it didn't seem to be an issue as long as county folks kept dropping off the strays to her that they picked up. Carol loved and cared for each one of them, vetted them and all but one female is spayed. The unspayed one is kept far away from any males. As I said, having numerous dogs was never an issue, but it has become an issue now. The neighbors started complaining until she had to go to court. The court told her she can only have 3 dogs. This from the very people who kept dropping them off and no limits on how many someone can have. She appealed it and the higher court agreed with the initial decision. She fears the county will take all but 3 and nobody knows how they will dispose of them.

But, this is not a plea for donations as she stated very clearly yesterday, she doesn't want money. Money can't buy the dogs safety. She needs help finding homes for 97 dogs before the county steps in. I have numerous pictures which would slow down the email system but have a few attached. Many appear to be Beagles or Beagles mixes , Black labs as well as mixes , a Golden Retriever and a varied assortment of larger dog from pups to older adults. They are all socialized although one is a wee bit timid. They're well fed, have plenty of water, little wading pools to go in an cool off, and she shows so much attention to them, plays with them and just gives them wonderful hugs and kisses. And it's obvious they love her too.

Carol needs your help. Her sister Jan is willing to take emails about them for anyone wishing to help.

This is NOT a hoarder situation. It is an older woman who kept having county dogs dropped off and now, on top of losing pretty much everything she had, the county wants to make her life more difficult. She is devastated at what has happened and is terrified of the county taking them and putting them down. All she wants is for good rescues to help her out. No money, no donations, and pretty much all their vetting is done.

So I'm asking that you take a moment to think about what would happen if your own life was suddenly turned upside down, lost your home and animals in a fire, and after taking care of animals the county asked you to take, they now want gone. There's nothing left she can do to keep them so she has to find them good homes and/or rescues.

So please, if you can find it in your heart to help with one or more, contact Carol at the number below from the original email I received, or contact Shari whose info is also included. If you can't help perhaps you know a rescue, breed specific or all breed that can help. If not, then please, take a moment to re-post this to your friends , groups (not craigs list , too many weird folks on there) and lets not forget myspace.

Contact – Carrol Crocker directly at 256-638-2527
or Shari dogpackrescue at (hughes.net)

This county does NOT have an animal control facility and whenever a stray was found , the local officials would bring animals to her. They now wish to remove all the animals because the neighbors are complaining. She currently has 101 animals – all in good relative health – including some special needs animals who are in danger of being confiscated by the county if she does not find rescue for them.

There are two rescuers on the scene right now who are assessing the animals – most are friendly (a few are scared) and the conditions are good where they are living. Carrol has built runs/kennels for them and them and all are well-fed and taken care of.

Since there is NO COUNTY FACILITY to house them should the county confiscate them, they will be euthanized. The county has indicated that they are planning to confiscate them and do not specify the means by which they will be destroyed.
The following is a letter from Jan Puckett, Carol's sister;
My name is Jan Puckett.. Carrol Crocker is my sister and she is in dire need of help with her animals. Carrol lives in Rainsville, AL, a rural, farming community. She has 5+ acres which was our grandparents' home place.

Carrol lives on a meager Eastern Airlines retirement and Social
Security Disability. She goes lacking some months but her animals do not. She has rescued animals but also, members or her community as well as Rainsville city employees have brought to her animals found while performing their city duties. The city fathers knew this was taking place and never said anything……until last year. The mayor has been recorded in court papers saying, "We knew what was going on but we had no where else to take the animals." Now, he wants her shelter abolished. Keep in mind there is no ordinance as to how many pets a person can have and there is no leash law. The city has taken her to court and won. The judge has ruled Carrol can have no more than 3 pets. She has appealed his ruling and the higher court has recently upheld the local judge's decision.

She is trying to place her dogs but unfortunately the shelters around here are full and do not have room for more. She has been calling all over the US trying to save her dogs. She needs help desperately. Carrol now lives in the unattached garage due to a house fire a year ago. She has been taking showers with a water hose at the back of the garage.

Please help her. These dogs mean a lot to her and she is devastated at the idea of putting them down.

Respectfully,
Jan Puckett
pauljanpuckett@bellsouth.net.
Rescuers are trying to help in any way they can but it is a desperate situation. Carol does not want any help for herself, only to know that the dogs are going to be safe and taken care of.
Sterile Ferile is one of the groups who is trying to help and has offered to use their Paypal and will be done through their 501(C)(3) organization. Please indicate that the assistance is for Carol Crocker's animals and all funds will go directly to her.
Paypal Address – tsfinfo@bellsouth.net (at bellsouth.net) http://www.thesterileferal.org/
Of course, you may contact Carol directly at:
Carol Crocker
239 Fortner Road
Rainsville, AL 35985
256-638-2527
Email This Post
Like this post? Subscribe to my RSS feed and get loads more!