Horrific Abuse Breeds Compassion as Community Rallies Around Brutalized Dog
Friday, October 24th, 2008 at 6:17 am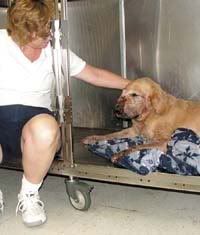 Update – 12/18/08 – "I Am Guilty," says Juvenile Abuser
See Update – 11/1/08 – Update on Yellow, Dog Tortured by Juvenile
"We were outside and heard the gunshot," the man said, asking only to be identified as a concerned citizen. "It was so close and loud that we ducked. We then saw the dog walking out of the woods. That's when the 4-wheeler pulled up."
The story goes on to tell of the rider of the 4-wheeler taking a rope and tying it to the dog's collar and the 4-wheeler then the rider jumping back on the 4 wheeler and taking off before those witnessing the situation could intervene. Thankfully the rope pulled the collar off the dog and the dog was not dragged as was the rider's cruel intention.
When the dog was taken to a vet, an examination showed the story of the cruelty the dog, named Yellow, had faced at the hands of a vicious punk.
"He had been shot in the face at close range with birdshot," said veterinarian Dr. Beverly Hickman of Dublin's Shamrock Vet Care, "and a three-blade hunting arrow was embedded in the bone in his back left leg."

Even more disturbing to Hickman was the fact that someone had unscrewed the shaft from the arrow.

"Dogs don't know how to unscrew an arrow," she said flatly, "whoever did this had to physically go up to the dog and unscrew it."

An x-ray hanging on the wall near the dog revealed over 100 birdshot had penetrated the dog's entire head. The center of the dog's nose bridge had taken the brunt of the shot. Bone had shattered, leaving a nickel size hole halfway between his eyes and his nostrils. (Courier Herald)
This happened on October 12, in Dublin, GA and the culprit was a 13 year old boy that was often seen drive through the community on his 4-wheeler with a rifle and bow in a carrier case mounted to the vehicle. A 13 year old!!
The dog, dubbed Yellow, was an 80 stray lab mix that it seems many in the community had taken to feeding and caring for. He went by many names depending on who he was with and by all accounts was a very sweet and loving dog.
"He is a sweet, sweet dog," said Cathryne Whitaker who recognized him as a stray she'd first began feeding about three months ago. "He would show up and I'd feed him and he would stay for a few days then leave again. I found out some other neighbors had been feeding him too.
"He reminded me of a book I read as a child called 'The Part-Time Dog' which was about a dog that would eat breakfast at one house, dinner at another, and sleep at yet another house. So I called him our 'Part-Time' dog. But everyone had a different name for him – Luke, Bubba – most everyone in the neighborhood took care of him."
Hickman, a registered nurse, assisted in the emergency surgery on Yellow.
"I was flushing out the shattered bone fragments from his face as Dr. Hickman was trying to remove the arrow from his leg bone," Whitaker said. The razor sharp arrow was embedded so deeply in the dog's hock bone, that Hickman had to lower the surgical hydraulic table in order to get enough leverage to pull out the arrow with a pair of pliers.
"Once we got the blood cleared off his face, we tried to figure out what kind of instrument would cause that much damage to his face," Whitaker said. "We thought about a gunshot, but there was no exit wound in his mouth. His face looked like it had needle pricks all over it. So Dr. Hickman decided to x-ray his head. We could hear her say 'Oh my God ya'll come look at this!" When we saw all that birdshot in his head we had to wonder who could commit such a heartless act on such an innocent victim. That is just torture."
Now that almost two weeks has passed, the good news is that Yellow is recovering well, considering. The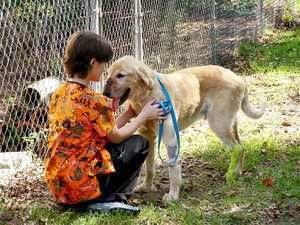 wound on his muzzle is the worst and the nickel sized hole is now about 1 1/2″ in diameter and will need reconstructive surgery before infection sets in. He is blind in one eye and will have about 150 pieces of birdshot forever lodged in his muzzle. His leg is healing well and he's getting around quite briskly on his walks. He's still the happy dog he always has been with a ceaselessly wagging tail and kisses for everyone.
And the best part of this is that the community has really come together for Yellow. One little boy, 7 year old Brandon Foskey, hearing the story brought asked for donations at school starting with his principal and proudly handed over the zip-lock baggie with change and bills he collected.
Stories like this abound since word got around about what happened to this sweet stray who never hurt anyone.
"When I read the paper about what happened to Yellow, I started crying," said Jill Storey. "My son, Garrett asked me what was wrong, so we talked about the article." Storey said Garrett, 10, quietly went to his room and returned with five dollars, asking her to please make a donation to Yellow's surgery fund.
"I thought 'if a 10-year-old child is willing to donate, I bet I could raise more money at work'," said Storey, a hair stylist at Emerald Cuts.
"So for the next two days I talked to every client, so did the other stylists. Everyone was willing to give something – $5, $10 – we raised about $70. It was amazing how many truly concerned people are out there."
Little Cassie Bennett wanted to help. So, she emptied her piggy bank, folded one of her blankets and picked out a squeaky toy. Her mother brought Cassie's offerings to Shamrock Vet Care for Yellow.
At West Laurens High School, Ellie and other students in her 10th grader Spanish class began talking about what happened to the dog.

"When I got to the classroom, the students were all talking about it," said Spanish instructor Graham Reymer. "When Ellie told me, I began crying. Someone had brought the newspaper article about what had happened and we read in class. We all had very lively discussions about it. The students were outraged. They were upset because the actions of one did not represent them."

What happened next moved Reymer to tears of pride.

"They all wanted to donate to help toward Yellow's veterinary care," said Reymer. Over the next few days, each of Reymer's classes did the same. One student, William Crabb, even asked friends and family to contribute.

"I have never been so proud of them," beamed Reymer. "I try to teach my students that we are in the world to make it a better place."

"You've got to open your eyes and see what's happening," said Ellie. "When you get a chance to help someone, whether anyone is watching you or not – you just do it. It isn't about you. You do it to change the world for the better."

WLHS 10th graders had collected $106.22, which Reymer delivered to Shamrock Vet Care, along with a card signed by all the students wishing Yellow a speedy recovery.
The vet clinic and Yellow have had a steady stream of visitors and well-wishers, people bringing donations and even gifts, especially a favorite of Yellow.
"Hamburgers! The dog loves hamburgers!" said Wanda Woodard, co-owner of the veterinary clinic. "For the first few days we couldn't get him to eat and I was getting really worried. We even tried a food that even the sickest dogs will eat, but he spit it out. Then I thought about it – he is a stray and dog food was probably foreign to him. So I bought him a couple of hamburgers and he wolfed them down!"
So far they have collected almost $3000 in donation which should come close to covering the majority of the surgery and rehabilitation that Yellow will need.
And when Yellow is recovered he will have a chance at a real home and a real family. There have been at least 4 excellent adoption offers so far.
As for the little punk, of course he pleaded not guilty and got to go home with mommy and daddy. What amazed residents the most was that the day following his brutal attack on Yellow, this little monster was seem running around in that same 4-wheeler with the weapon carriers!
It looks like there will be a happy ending for Yellow, a community had been brought together, their hearts touched and opened.
Unfortunately it looks like there's also a little sociopath still running loose. He should have been locked up and left there. To commit such atrocities, there's is something seriously wrong. I hesitate to think what the future will hold with him as part of society….
Email This Post
Like this post? Subscribe to my RSS feed and get loads more!