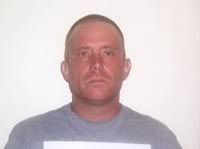 Ok, we're got one very sick SOB here! Not only does he get kicks out of torturing dogs, he likes to be on film and involve kids too!!
Larry Cummins, 41, of Hasty, AR and a 15 yr old accomplice were arrested after a videotape surfaced showing them torturing at least seven dogs by cattle prod and stomping on them. There were at least four different scenes on the videotape including one of Cummins torturing a small white dog with a cattle prod until it was bleeding from the mouth and another showing them breaking into a neighbor's house and the 15 year old stomping on a little dog until it screamed in pain.
Larry Cummings and his accomplice call this cattle prod "Mr. Green". They even tested the prod on a metal fence to make sure its working. The two can then be seen walking into a dog pen, where Cummings is overheard saying "this is where the dogs get hurt".

Court documents indicate the 15-year-old then apparently videotaped Cummings using that cattle prod to purposefully and repeatedly shock a small white dog. The abuse didn't end there. The two suspects continued to document themselves shocking a dog so badly, the animal is seen having blood coming from its mouth. The suspects can then be seen chasing and shocking the dog while it's trying to escape. All of this happened on property owned by the 15-year-old's family.

Newton County investigators say the two then went into a neighbor's home. That's where the 15-year-old apparently stomped on a small black dog in a dog bed causing it to howl in pain in terror. In total, investigators say seven dogs may have been tortured over a two day period. Newton County's sheriff says it's one of the more graphic things he's seen.

Newton County Sheriff Keith Slape adds, "What was viewed on the tape was disturbing."
What's scary is that this abuse was reported to authorities in February but the sheriff's department said it didn't have the resources to investigate and that it wasn't a high priority.
It wasn't until the tape was actually shown in court in an unrelated case and these horrific torture scenes showed that anything was done. At the time the judge in the case directed the sheriff's department to take the tape into evidence and investigate.
Slape says, "During the viewing of this tape, it lapsed into another scene, that we saw at that point. And the judge directed us to take it into evidence."
After having the evidence finally drop in their lap, the Newtone County sheriff's department then acted. Cummins, who has at least four prior felony convictions, was arrested and charged with two counts of animal cruelty, contributing to the delinquency of a minor, and violation of the habitual offenders act, felony burglary for the burglary of Gladys Morse's home on November 7.
Cummins remains in the Newton County jail on a $25,000.
The 15-year-old is in the custody of juvenile authorities. He was also charged with two counts of animal cruelty and felony burglary. His case is set for trial on Tuesday.
Animal Abuse Caught on Tape, Hasty, AR
In Arkansas, with its extremely lenient animal cruelty laws, the animal cruelty charges against Cummins and the juvenile are only misdemeanors. HSUS, State Senator Sue Madison and others are using this horrific case as a platform to get the laws changed to felonies.
Eva Madison [with the Humane Society of the Ozarks] and her mother State Senator Sue Madison want to change animal cruelty laws. The pair would like to see the offenses become felonies and not misdemeanors.

"It has been the powerful lobbying influences and special interests groups in Little Rock, including the Farm Bureau and Cattleman's Association, that have made this really an uphill battle," explains Madison.

Officials with the Arkansas Farm Bureau say they've supported other bills regarding animal cruelty, just not Sue Madison's.

"To say that we are standing up and letting people who are abusive to animals go free and that's our intent is simply not right," said Steve Eddington, Public Relations Director for the Arkansas Farm Bureau.

The Farm Bureau wants the charges changed to a felony only after a person's second animal cruelty offense. Eva Madison says you can't let animal abusers get away with the crime the first time.

"There was a situation in Baxter County where a woman was charged with animal cruelty and she left the state to Missouri," explains Madison. "With a misdemeanor we can't go get her."

She and her mother are making some changes to their 2007 bill that was passed in the Senate, but denied by the Agriculture Committee in the House. (NWA)
"Because Arkansas' anti-cruelty law is one of the nation's weakest, actions as deplorable as bludgeoning dogs are punishable only as misdemeanors," said The HSUS' Arkansas State Director Desiree Bender. "Year after year, the state legislature has failed to fix the state's cruelty laws so they provide felony-level penalties for the worst acts of cruelty."
The HSUS ranked Arkansas' animal cruelty law the sixth weakest in the nation and one of only seven states with no felony animal cruelty provisions in 2007, now one of only 5. The Arkansas legislature did not meet in 2008. During the 2007 legislative session, two competing felony animal cruelty bills failed to pass.
"The connection between animal cruelty and human violence is well documented," Bender said. "As Arkansans, we deserve a felony animal cruelty law that will better protect our communities from violent criminals. We are pleased that both Attorney General Dustin McDaniel and Governor Mike Beebe have already declared their support for such a law."
Isn't it time that animal cruelty was viewed in the harsh light it deserves?? Arkansas, Idaho, Mississippi, North Dakota and South Dakota are the only 5 states left with felony provision for animal cruelty. Utah and Alaska finally took the steps this year to enact felony animal cruelty laws.
People like Larry Cummins need to be locked up without a chance to get at children or animals. He is a sick threat to society and maybe a judge will see that this time, before it's too late and he has a chance to poison the minds of other kids and abuse more animals.