Horrific Case of Neglect and Cruelty
Friday, September 7th, 2007 at 7:34 am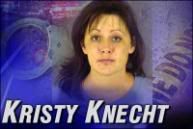 Two dogs, a German Shepherd and Belgian Malinois, had been left for weeks in a house in the 1000 block of South Uvalda Street, Aurora, CO. The woman who lived there, 29-year-old Kristy Knecht, may be facing animal cruelty charges. Aurora animal investigators are recommending felony animal-cruelty charges.
On August 21, an Aurora Animal Care investigator found a barely breathing, severely dehydrated and malnourished, Neeko, the Belgian Malinois, in the abandoned home. The white German Shepherd wasn't so lucky. Neeko weighed barely 30 pounds, an alarming difference from the 80 pounds he weighed when Knecht got him on July 1!
"She just totally left them, left them to fend for themselves," said Margaret Freiburger who lives down the street.
Frieburger said the woman refused offers to help look after the dogs, and indicated relatives were feeding them.
Responding officers were disturbed when they entered the home, at least one investigator was physically sickened by what he saw, according to a neighbor. Investigators found feces, urine and scraps of material throughout the house, including the chewed up bones of the dead German shepherd.
"There was dog feces inside," said Freiburger. "One of the dogs had passed, and lets say the other dog had to find a way to survive."
Animal control officers found the one dog still alive had been feeding on the carcass of the dead dog.
"There was no water in any of the toilets, there was no water in any of the fish tanks, anything that was remotely resembling food or might have been food around the house had been scavenged," said McLucas. "He fought hard; he did everything he could to find sustenance inside the house."
"This was one of the most tragic cases I've seen in my 30 years in animal care," said Pamela Alford, manager of Aurora Animal Care.
Cheryl Conway, with the Aurora Animal Care Division said Neeko did not look like he could make it at first.
"When Nikko was brought in and laid on the examination table he managed to wag his tail, lift his head, look her directly in the eye with this spirit of, 'I want to fight for my life give me a chance,' and he raised paws as if to shake paws. That was enough to make the determination to go forward and try to get veterinary care."
Aurora Animal Care traced Neeko's previous owner only to find it was a soldier who had recently gotten his deployment orders. After interviewing numerous people over some time, trying to make sure that Neeko went to a good home, Knecht showed up with the white German Shepherd and it seemed like a good match.
A picture of Neeko then shows a much different dog them you see now. A happy, healthy and robust 80 pound dog when he went to Knecht.
In the past two weeks, Neeko has slowly started to gain some weight and can now walk, which we was unable to do when he was first admitted.
"From the moment he hit our door, he has been the best patient, he has tolerated everything, has been pretty happy well-mannered pup," McLucas said. "He is a happy, sweet loving dog. He will take your heart, there is no question. He's full of life and his will to live is what has got him to where he's at."
Neeko's medical bills are already in the thousands of dollars and it will be many months pf care and physical therapy before he will come close to the healthy and robust dog he once was.
If would like to help with Neeko's medical expenses, checks can be mailed to Aurora Animal Shelter, 15750 E. 32nd Ave. Aurora, CO 80011. Attention: Veterinary Care Donations.
Now let's just hope that the District Attorney's office makes the right decision and files felony animal cruelty charges against Knecht!! If abandoning two dogs to fend for themselves, forcing one to eat the carcass of the other and even then losing two-thirds of his body weight is not considered animal cruelty, then there are some serious problems with the judicial system, not that that comes as much of a surprise!
The Denver Channel, Denver Post, 9News,
Email This Post
Like this post? Subscribe to my RSS feed and get loads more!