Horrific Conditions at Delaware County, OK Puppy Mill
Tuesday, November 4th, 2008 at 7:55 am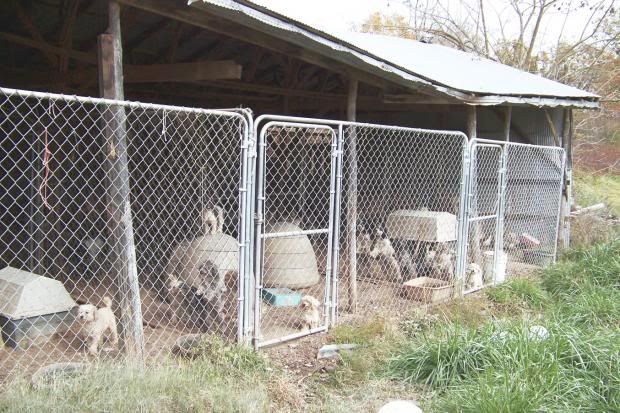 More than 100 dogs, mostly all cocker spaniels and miniature poodles, were found crammed into cages, covered in feces, most without food or water, many with no sunlight at a Delaware County, OK kennel owned by Sue Davis.
"Nine dogs had died and the rest were eating on each other," Delaware County deputy Mark Berry said. "It was one of the worst cases of animal abuse I have seen — no water, food, no shelter. There were approximately 10 dogs in 4-by-3 pens."
The dogs hadn't been fed for a week due to a dispute Davis was having with the landlord so she hadn't even been to the property in that long. Finally on Friday the landlord called authorities because the dogs hadn't been fed. It had gotten to the point that some of the dogs were actually cannibalizing others.
"She (Davis) said she made several thousands of dollars a year selling puppies," Berry said. "When we were out there, she was crying saying, 'I love my dogs.'"
Davis had brought four 50-lb bags of food Friday but that didn't come close to feeding all the staving dogs Berry said.
"It was awful," said Linda Miller, Grove Humane Society president. "It was the worst case I have ever seen."
Miller said when the dogs' smelled fresh, clean water there was chaos.

Dogs were crammed into cages, small tea-cup size poodles were blinded with lacerations and the female dogs were pregnant, said Darlene Wehr, a Delaware County veterinarian.

Some pens were in a shelter where the dogs couldn't get any sunlight and most of the dogs were walking in 4 to 5 inches of fecal matter or their coats were soiled with feces, Wehr said.

Ninety-eight dogs were taken Sunday to the Denver Dumb Friends League because it was the only place that could handle them, he said. (News OK)
Ninety-eight dogs were taken Sunday to the Denver Dumb Friends League because it was the only place that could handle the large number of dogs.
Some of the dogs were blind and ost of the female dogs were pregnant.
Animal cruelty charges are expected to be filed this week against Sue Davis.
Oklahoma ranks behind only Missouri in the number of dog breeders and brokers registered with the USDA.
Puppy mills tend to avoid USDA regulations for humane animal care by operating at the retail level, the World's investigation found. The USDA primarily regulates wholesale dog-breeding operations.

The agency has established minimum requirements for breeding animals that include adequate food, water and access to veterinary care.

However, dog breeders who sell animals at the retail level or through the Internet are not required to follow USDA standards for care and treatment.

That means that a person can raise and sell an unlimited number of puppies at the retail level without USDA oversight, the World investigation showed. Animal advocates say this is a loophole that must be closed.

A bill to stop unregulated puppy mills from operating in Oklahoma died in February in a state House subcommittee. (Tulsa World)
Hopefully this is one more puppy miller that will be shut down and it sounds like some serious media spotlight needs to be shined on both Oklahoma and Missouri. It helped in Pennsylvania.
Email This Post
Like this post? Subscribe to my RSS feed and get loads more!