Horrific Dog Torture in Detroit
Thursday, September 6th, 2007 at 8:49 am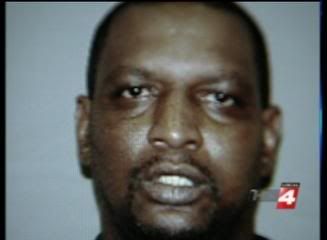 Do you see this face? This vicious monster is John Delmar Fladger, 44, of Detroit, MI. I could say he poured gasoline on his dog and set it on fire and he did, but what he did is so much more depraved than 'just' that! If you can get much more depraved. Humane Society employees said was the worst case of torture they have ever seen.
Evon Yusef who witnessed what Fladger did last month at an east side Detroit convenience store had this to say, "Yes, inside the store. He was pouring gas. There was gas all over the place. Customers were scared. They were backing away from him."
Another witness told a Humane society investigator that he seemed to be showing off for some children, "He was walking down the street, spilling gas at the dog. He was trying to light the dog at the same time he was walking."
Natatia Nix of the Michigan Humane Society called it one of the worst cases she has ever been a part of.
"The (Humane Society) staff sees everything that comes in. We see the hit-by-a-car dogs, the gunshot dogs, the neglected dogs – every type of abuse," Nix said. "But this… We were just looking around the room. We were in there with the dog – each of us were crying."
The poor tortured dog, a shepherd mix, had to be euthanized due to how severe the injuries and burns were. Initial treatments didn't help said Nix.
During the investigation the owner originally denied hurting the dog although there were many who witnessed the prolonged and numerous attacks, but later pleaded guilty to animal torture and the killing of an animal.
The owner is scheduled to be sentenced later this month. He faces up to four years in prison.
I cannot even imagine the horror this poor dog went through and why did no one step forward and try to stop this man?? I am so stunned by this I hardly know what to say!! And what I am thinking I can't even write!
Email This Post
Like this post? Subscribe to my RSS feed and get loads more!