Horrific Neglect – Dog Chews Off Own Leg to Escape – VIDEO
Thursday, April 3rd, 2008 at 9:19 am
UPDATE – Charged filed against owner – see below for information!
The beautiful 3 year old St. Bernard was found last Tuesday after a neighbor's tip, hobbling around on three legs after she was forced to chew her own leg off to escape from being entangled in some wire. Investigators believe the injury happened weeks ago and her owner just left her, in pain and untreated. Investigators said her stump was badly infected, she was in tremendous pain, hungry and thirsty.
"The tendons were hanging out, the bone was exposed," Nancy McEntee, an animal cruelty investigator for Monroe County said. "We found out later she had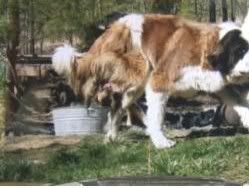 maggots in the injury, which says it was long-term, it didn't just happen overnight. It's probably one of the most horrible animal cruelty cases I've seen."
Dr. Nancy McEntee says they found Panda's coiled up chain they believe was wrapped around the dog's leg ….the leg the dog chewed off to get free.
Rescuers named this survivor Panda and believe that she got tangled in her collar and a wire cord and to escape had to gnaw off her own leg.
Panda was taken to a vet and had he leg amputated and is now her way to recovery.
"We think Panda's going to be one of the lucky ones, to make it," said Beth Weaver, who runs Smokey Mountain Saint Bernard Rescue and will foster Panda while she recuperates. "She's getting along great with her leg, you know. It ain't stopped her. She's still got the heart of a Saint, so we're really proud of being able to help her in her time of need right now, to let her know that there ain't just mean people out there, there's kind-hearted ones, too."
"She will never know the end of a chain again," said Weaver. "She'll know what a kind hand is instead of a rough hand."
The rescue will be taking applications for Panda's adoption when she's ready. Panda faces several months of rehab before she can be ready to be adopted. In the meantime Monroe County Sheriff's Office is investigating the case, considering possible charges of animal cruelty or aggravated animal cruelty.
The owner denies everything! He said he didn't even know she was injured. Guess he paid close attention to his dogs and took excellent care of them.
"He denies that there was a problem. As far as he has told us, he feeds and waters his dogs everyday. He was appalled after he heard about her injury and gave no suggestions as to how it happened," McEntee says.
"He said she had never been chained, yet we have photos of her chained," Moxim says.
The investigators found some moldy dog food and no water available for the dogs.
That's why they say they hope to have aggravated animal cruelty charges brought against the owner.
"We are working closely with the sheriff's office and hoping that a warrant can be issued for his arrest," Moxim says.
Even sadder is that Panda is not the only dog that was on the property. there is also another St. Bernard and several smaller dogs and for now all investigators can do is monitor them although they do hope to be able to remove them as well.
Personally I don't see how there's any question that her owner should be charged with animal cruelty! How can it not be deemed cruel to neglect a dog, forcing it to have to chew off it's own leg then to leave it for weeks in horrible pain without getting it any kind of treatment?!?
The Monroe County Friends of Animals Group, whose investigators picked up Panda and had her taken care of hope that the unnamed owner will at least be forced to pay the vet bill which is more than $1000. If not they will rely on donations.
If that's all the owner has to do, he's getting off lightly! I can think of many more appropriate punishments on top of that!!
UPDATE – Charges filed again owner of Panda! Remaining Dogs Surrendered!
An animal cruelty charge has been filed against the owner of a St. Bernard dog who apparently chewed one of her own legs off after becoming entangled in a wire, authorities said today.

No court date has been set for Adolfo Lopez, owner of the 90-pound dog named "Panda."

A tip from a citizen led a deputy sheriff and two employees of the Monroe County Animal Shelter to Lopez's home. (Knox News)
Adolfo Lopez is facing a class A misdemeanor for cruelty to an animal.

Lopez could be sentenced to jail time, fines and be forced to pay restitution for "Panda's" veterinary bills, which have cost the Monroe County Animal Shelter around $1,000.

Lopez has also surrendered his other three dogs, another St. Bernard and two Chihuahua mixes. (WATE)
Email This Post
Like this post? Subscribe to my RSS feed and get loads more!