Horror at Boulder Creek Breeder – VIDEO
Tuesday, July 29th, 2008 at 8:09 am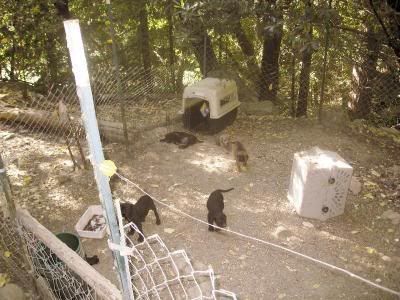 Updates Posted Below
See Update – 8/28/08 – $50K Arrest Warrant Issued
Police investigated a Boulder Creek house after a called called about "animals crying in pain". A horror scene greeted them at the property on the 100 block of Hartman Creek Road. Thirty-eight emaciated, scarred dogs, skulls, bones and dead dogs were found.
Many dogs were found locked in small cages covered in their own urine and feces, others were running loose over the property. Puppies as young as only two days old were rescued. One old dog was found in the cab of a truck where it had probably been living for a year or two, the cushions were torn up, covered in urine and feces, no food or water. Inside the house, animal control and sheriff's department investigators found one dog locked in a crate with no food or water and a dog that weighed only half what it should have.
The dogs were a mix of Cane Corsos, Rottweilers, Labs and other mixed breeds. The owner of the property, whose name was not released, had previously been running ads in the newspaper for puppies. the man was not licensed to have a kennel or breed and sell puppies.
"He was advertising Cane Corsos for sale in the San Jose Mercury News and the San Francisco Chronicle," said Todd Stosuy, animal control manager, who is familiar with the ads. None of the ads was in the Mercury News on Monday. Dog experts say prices for Cane Corsos start at about $1,200.
And this is not the first time this man has come under scrutiny but it is the first time anything is being done.
Santa Cruz County knew of problems at the property six years ago, in 2002. In fact, animal services sought a warrant to inspect the property to investigate allegations of animal mistreatment. In 2005, county planning department investigators cited the owner for code violations including operation of a kennel.

So why didn't anything happen? "The decision in this case by our hearing officer was that the animal control officer did not have probable cause to be on the property in the first place. Our hearing officer said that didn't stand the legal test," said Ken Hart of the County of Santa Cruz Planning Department. "Could it all have been avoided? If you want to rewind the clock, possibly." (CBS5)
This came after authorities tried to gain access to the property on Friday but were prevented by the property owner. Armed with a warrant, they returned on Saturday. They did not apprehend the owner because he took off.
The dogs, many of them with ribs protruding, had mange, worms and scars. Many were almost wild and had never been socialized. Many were scared and timid.
Many of the dogs were also heavily scarred but not from being in organized dog fights. These dogs "were fighting for food," Stosuy said.
"I've never seen dogs inhale food so fast in my life," said Tricia Geisreiter, who works at the shelter. "Some of the puppies, even today, are laying in their food bowls, just chomping away."
The dogs are a mix of Labrador, Rottweiler and mastiff, Stosuy said. "These are big dogs."
"Thank goodness someone called," Geisreiter said. "It's sad this went on as long as it obviously did."
"They are so terrified," she said. "Totally unsocial. You can't even touch them."
Animal services officers are doing their best to care for the animals, Geisreiter said. However, since animals are considered property under the law, they remain under the resident's ownership until he either surrenders them or they are confiscated through the court system, Stosuy said. Until then, the dogs are not available for adoption.

"We have no intention of giving any dogs back to this gentleman," Stosuy added.

He said Animal Services officers removed at least three boxes of evidence, including sales records, from the man's house.

District Attorney Bob Lee said he couldn't comment on any charges the man might face or the fate of the dogs until Animal Services officers turn over their investigation to the District Attorney's Office. "The case … won't be coming to us until at least Wednesday," Lee said.

Neighbors said they have had ongoing issues with the suspect.

"A lot of his dogs were very aggressive," said neighbor Gordon Stewart, who lives on Deer Creek Road. "He uses a pellet gun to shoot trespassers."

Stosuy said deputies delayed the search a day when they were alerted to arrive with backup because of concerns the suspect might be armed. They were on the property for about six hours Saturday.

"I'm sure the animals will be a lot better off somewhere else," said neighbor Janet Laidlow. "It's just a sad situation." (Santa Cruz Sentinel)
There is no reason that something like this should have been allowed to continue to happen especially after authorities had been alerted time and time again!!
Horror at Boulder Creek Breeder
I'm sure there will be more coming soon and I'll keep the story updated.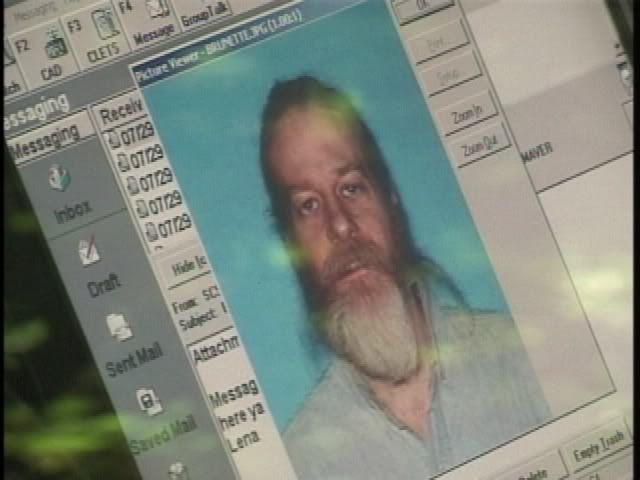 Police have released the name of the man who they are now searching for in relation to the property where 38 were rescued – Robert Brunette, 45.
They also say he is taunting them as they found another skull and two dog paws on the very same table where 5 dog skulls were found during the initial investigation of the property.
Two more dogs were also rescued and there are eight more they hope to round up when they return with another warrant for the property.
"Another search warrant was executed to try to round up some more animals," said Henry Brzezinski, just five weeks on the job as general manager of Santa Cruz County Animal Services.

Brzezinski said he "couldn't even speculate"' why Brunette would have placed the dog skulls on a table outside his house or hung a dog's head from a tree – or why the man would live in a house that was covered in excrement, urine and debris, with a dog carcass and a lawn chair on the roof. (Mercury News)
Authorities are now being contacted by people who bought puppies from Robert Brunette.
If convicted of animal abuse charges, Brunette would face a fine of $20,000 or up to three years in jail.
Anyone who might have bought a dog from Brunette or has information about the dogs is asked to call Santa Cruz County Animal Services at (831) 454-7254.
Robert Brunette was arrested today after an anonymous tip led authorities to Los Gatos. He is facing at least 10 misdemeanor charges of animal cruelty and neglect and once the investigation moves further along, he may be facing some felony charges as well.
Robert Brunette, who, on Monday, pleaded not guilty to 10 counts of animal cruelty and neglect in Santa Cruz County Superior Court, two of the counts are felonies and the other eight are misdemeanors—four counts of animal neglect and four counts of improper confinement remains in jail.
He was expected to be released on his own recognizance on Tuesday but has refused to accept the terms of his release. The terms included his prohibition from keeping animals in his possession while the case is pending, and he would have had to agree to cooperate with authorities in the retrieval of 10 dogs that are believed to still be on his property.
No idea why he refused the conditions but now he's being held on $100K bond and will have to appear before a judge today regarding the status of his release.
Personally I say leave him there to rot and do whatever to keep those poor dogs away from this piece of trash!!
Email This Post
Like this post? Subscribe to my RSS feed and get loads more!