Horror at High Caliber K-9 Kennel, Dead and Emaciated Dogs – PETITION
Wednesday, October 29th, 2008 at 9:52 am
UPDATE – 1/23/09 – Dog Killer High Caliber K-9 Owner Gets Jail Time for Starving Dogs
UPDATE – 12/5/08 – Plea Deal in Gruesome High Caliber K-9 Kennel Case
High Caliber K-9, a business located at 1516 Coitsville-Hubbard Road, Youngstown, OH, touts itself as a doggie day care, training and obedience school and also offers importing and stud services. It was also the scene of incredible horror when Animal Charity humane agents went to the property last Wednesday after a complaint from a woman who said she couldn't get her dog back from owner, Steve Croley.
When agents, Kyle Ziegler and Joe Borosky, got no answer to their knock, they prevailed upon a next door neighbor to allow them to look from their back yard. What they saw was gruesome!
Worried over conditions and concerned about other dogs, they entered the property. They found 7 dead and 8 starved emaciated dogs inside. (WARNING – Graphic Pictures at end of story)
When police arrived and arrested Croley, they found 4 more dogs inside the house, also very skinny and malnourished.
When asked if Croley had any explanation for dead and starving dogs, Borosky quoted the kennel operator as saying: "Times are hard, I can't afford to feed them. I love my dogs."
Dog owners say they don't understand how he can possibly say that.
"A woman saying that she gave him over four hundred dollars, and another woman paid him over four hundred dollars just last week. So he had money…what he did with it, I don't know, but he was not feeding the animals with it", says Nikole Owen, CEO of Animal Charity, who spoke with some of the dog's owners.
Croley was originally charged with nineteen counts of animal cruelty and neglect, but was arraigned on only four counts in court because Youngstown City Prosecutor Jay Macejko says the Humane Agents with Animal Charity went onto Croley's property prematurely, without the necessary warrants. Macejko says Animal Charity acted unlawfully, and that "its unlawful conduct sacrificed a full scale prosecution."
So he only filed charges on the four dogs that the agents 'saw' prior to entering the property. Guess it doesn't matter if the agents' concern was over sick and dying dogs rather than the 'letter of the law' so Croley, dog killer that he is, is going to get away with his cruelty and neglect!
"They should have called me. I could have got a warrant in one hour," Macejko said Friday. "Saving animals doesn't mean you can prosecute."
Looks like yet another case of protecting the criminal instead of the victims. Damn shame doesn't begin to express my feelings on this!
Nikole Owen, chief executive officer at Animal Charity, wrote to Macejko on Friday, saying that her agents acted within the law and that Croley should face his original 19 counts of animal cruelty.
The New York owners of one of the dogs that was left at High Caliber K-9 in June to be trained had their worst fears realized.
Nitro, a once robust and beautiful 105-lb Rottweiler was among the 7 dead dogs at the kennel. In June, Tom Siesto and Liz Raab paid Croley $2000 and left him with 3 months worth of food and vitamins for their beloved dog, Nitro.
The called two weeks ago wanting to pick up their baby but were told by Croley to leave him for a bit longer.
"We said OK," Liz Raab said. "He was probably already dead."
"I trusted him. We've known him two years. He was working for the place [in Canton] where we bought our dogs," Raab said. "All this man had to do was say 'help.' This was not necessary. There's no excuse. This can't be a slap on wrist. He can never own a business again. This is the most horrific thing I've seen in my life."
When Nitro was found, he was down to a mere 50-lbs and was originally identified as a Doberman he was so emaciated.
"This excuse of hard times, is absolutely unacceptable. My dog is now half the size. I just viewed him, he's dead. He's half the size, animal charities thought that he was a doberman, not even a Rottweiler," Liz Raab said.
Tom emotionally added "This is horrific, to not feed an animal, this man should go to jail and not be fed forever."
Oddie Humbert and his wife LauVonna was another couple who left their dog, a five month old Shepherd, Princess, with Steve Croley and were shocked to see television news reports of the animal seizures.
"I was praying there was nothing wrong with her," he said, adding that their children are grown and Princess is his wife's "baby."
The Humbert's were luckier than Nitro's owners. They had only left Princess 8 days prior to the raid and she was in pretty good shape and very happy to see the Humberts.
"She wanted to kiss me, jumpin' all over me," Humbert said.
On Friday, Steven Croley, 37, was arraigned. He was charged with four counts of animal cruelty, plus one count each of noxious odors and exterior property violation. Judge Robert A. Douglas Jr. set bond at $20,000 allowing 10% to be paid. As a condition of bond, Croley is not allowed to own or harbor any animals. He is due back in court Nov. 13 for a pretrial hearing.
The remaining living dogs are at Animal Charities being cared for and were actually found to be in even worse condition then initially thought after they were examined. Of the 19 dogs, Croley claims to own 16 and the other 3 were being boarded.
WARNING – GRAPHIC PICTURES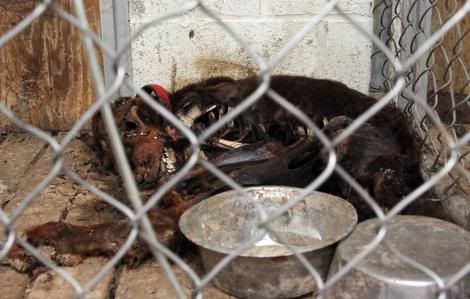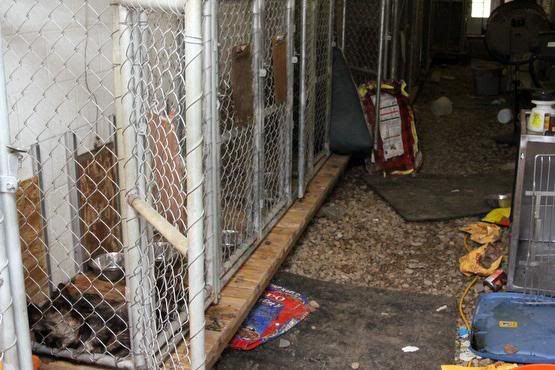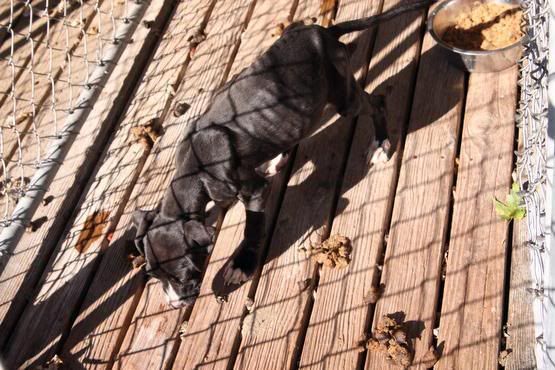 What can you do?
As always I would ask that you speak for those who cannot speak for themselves. Write, call and email the prosecutor and judge and ask that Steven Croley is prosecuted to the fullest extent of the law. Express your dissatisfaction that most of the charges were dropped. Be polite but make your point.
Local prosecutors office:
Joseph "Jay" R. Macejko
4th floor city hall
26 south phelps street
Youngstown ohio 44503
PHONE: 330.742.8791
FAX: 330.742.8794
Judge
Judge Robert A. Douglas, Jr.
Youngstown Municipal Court
265 Phelps Street
Youngstown, Ohio 44503
PHONE: 330.742.8857
FAX: 330.742.8725
Email for the Judge's (Judge Robert A. Douglas, Jr.) assistant:
lblum@turningpointcs.com
Contact info for the Ohio State Attorney General (Nancy H. Rogers):
PHONE: 877-244-6446
WEBSITE CONTACT FORM: http://www.ag4ohio.gov/Public/details.aspx?s=222
Be sure to also sign the petition that is sponsored by the Nitro Foundation
Croley's blatant cruelty and neglect cannot be allowed to be swept under the carpet. These dogs suffered and seven of them died horrible cruel deaths. There is no excuse whatsoever!
Email This Post
Like this post? Subscribe to my RSS feed and get loads more!