Horton's Pups, Hillsville, Virginia 'Puppy Mill' – More Than 1000 Dogs
Sunday, November 11th, 2007 at 1:02 pm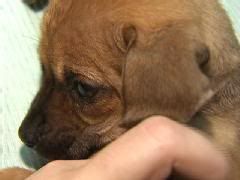 The ongoing saga of the more than 1000 dogs seized from commercial breeder, Horton's Pups in Hillsville, Virginia is moving along.
This past week animal welfare groups including, the Humane Society of the United States, assisted by Carroll County authorities, volunteers and animal-control officers from surrounding counties descended on Hillsville to help find homes for roughly 1,000 dogs and puppies taken from one of the state's largest "puppy mills," Horton's Pups in Hillsville.
When word of the dogs' plight surfaced — that officials in Carroll County, Va., had seized nearly 1,000 dogs from a suspected puppy mill — reaction from animal lovers was immediate and intense.
Volunteers from the Washington region joined others from Florida and New York who streamed to the rural town of Hillsville near the North Carolina border.
Families began calling to ask when they could adopt the dogs. Donations rolled in.
PetSmart sent a trailer full of kibble and other supplies.
"It's been incredible," County Administrator Gary Larrowe said of the outpouring. Larrowe had declared a state of emergency after hundreds of dogs were found living in filthy cages. Officials said they think it is the largest suspected puppy mill ever found in the state.
See the VIDEO 
Junior Horton, owner of Horton's Pups, held a kennel permit for 500 dogs but had more than 1000; 650 breeding females, 70 males and more than 300 puppies. The investigation also documented that Horton wasn't licensed by the United States Department of Agriculture (USDA) as required by law and was illegally selling dogs to pet stores. That information has been turned over to the USDA for possible further legal action.
Horton defended his operation, saying he has raised and sold dogs for 20 years and has always taken good care of them. He conceded that his operation could be called a puppy mill but added, "I'd rather be a puppy miller than a dognapper."

Horton said Carroll officials pressured him into surrendering the vast majority of his dogs even though his permit allows him to keep 500.

"They made it sound like it was the only option I had," he said. "They just kind of overpowered me with their authority."

Horton said he could have sold all the dogs within several weeks if authorities had given him a chance. He said the dogs he surrendered could have brought $4,000 to $5,000. Even though Horton is giving up 1,000 dogs, he has negotiated with the county to keep more than 100.

"I think I'll be all right once the county gets satisfied. But we had too many dogs, we know that," Horton said.
Although the dogs had spent their entire live in cages, most appeared to be healthy although there was some biters said John Snyder, the Humane Society's vice president for companion animals.
"Like many puppy mill animals that spend their entire lives in cages, they're not socialized. They may not be animals that we can handle. They may require behavior assessment and training to see if we can make them come back from years of not being touched and just being a breeding machine," said Snyder.
"They use the word 'puppy mill'. That's just a cop out. They do that to gain publicity." said Horton.
But when asked if it was a 'puppy mill' he said, "Well, I guess it is. That's what they deemed it as. But we're a proud puppy mill, I guess."
The HSUS's five-month, undercover investigation into Virginia puppy mills was the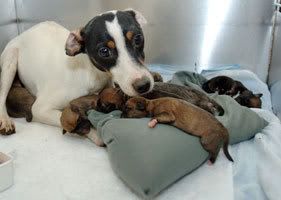 catalyst for this rescue. When Virginia Partnership for Animal Welfare and Support (VA PAWS) showed Carroll County officials The HSUS's footage, they confronted the puppy mill owner with evidence and set the rescue in motion. VA PAWS continues to work with county officials as part of the rescue effort.
"This is an inevitable consequence of an out-of-control and irresponsible industry," said Wayne Pacelle, HSUS President and CEO. "Dogs are suffering because of this. We are really surprised at the scope of large scale commercial breeding operations in Virginia."
Now that the dogs have been rescued and have been and are being vetted, the next big job is getting them to shelters and rescues where they can find good homes. The dogs are going to shelters all over the east coast to be readied for adoption.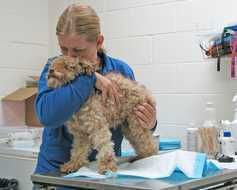 The Orange County Animal Shelter took in 25 dogs seized from the Hillsville Puppy Mill in Carroll County, Va. They have Jack Russell terriers, shih-tzus, malteses, poodles and "puggles," pug and beagle mixes. Althought the dogs will need to undergo evaluation and all may not be adoptable, they hope to be able to start adopting the dogs out later this week.
"Our hope is to have some of the animals available for adoption late next week," shelter manager Jess Allison said Friday between examining a 3-year-old poodle and a Maltese puppy. She asks the no one call about the dogs until after Tuesday to give them time to evaluate and get the dogs prepared.
Below is a list of some other shelters who have taken some of the puppy mills dogs;
Please check their websites for any information before calling. Most of these shelters are just being beseiged with calls already.
Carroll Sheriff H. Warren Manning said that the matter has been referred to the commonwealth's attorney. A decision on whether to file criminal charges against Horton is expected within a few weeks.
Animal welfare advocates say that puppy mills — unlicensed, illegal facilities that breed large numbers of purebred puppies — have proliferated as demand has increased and dogs have become easier to buy, over the Internet or through newspaper ads.
"It's a huge problem," said Tara deNicolas, a spokeswoman for the Washington Humane Society.
Sources – inRich, ABC13, Chapel Hill News, WDBJ7, Houston Chronicle, HSUS,
Email This Post
Like this post? Subscribe to my RSS feed and get loads more!