Houston Animal Protection Group Sets Up First of 5 Spay & Neuter Clinics
Thursday, November 15th, 2007 at 6:59 am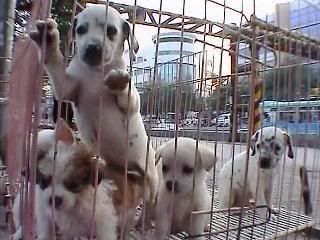 Saving Animals in Houston is doing something about the pet overpopulation problem. The Fix Houston initiative opened the fist of five spay and neuter clinics which will charge based on a client's ability to pay.
This five year initiative which is aimed at combating pet overpopulation is aimed at preventing the destruction of almost 80,000 dogs and cats a year in area shelters.
The first clinic which opened Tuesday at the intersection of Barker Cypress and the Katy Freeway was made possible by a $1 million grant from PetSmart Charities, the largest gift by PetSmart to a single project in Texas. This gift is just part of the $5 million committment by PetSmart.
The estate of Mickey Hagey provided funding to build the first Fix Houston clinic. Citizens for Animal Protection, the estate of Ann Slemons Young and Weingarten Realty provided land to open all five clinics across Greater Houston.
"Reducing the need for animal sheltering and control in Houston could save taxpayers much of the $15 million in taxes and private donations spent each year to operate the five major local shelters," Houston City controller Anise Parker said. "Preventing homeless dogs and cats by spaying or neutering is not only kinder than destroying them, it's much less expensive in the long run."
An additional $3 million will be required to operate the Fix Houston community-wide plan over five years.
This is definitely the kind of program we need to see more of, especially in areas where shelter euthanization rates are astronomical.  It is only through these kinds of programs and teaching people about pet responsibility that we can really make a dent in the unnecessary death toll of innocent and defenseless animals.
Source – My Fox Houston
Email This Post
Like this post? Subscribe to my RSS feed and get loads more!