Humane Society Auctions off Michael Vick's Apology 'Notes'
Wednesday, September 5th, 2007 at 5:49 pm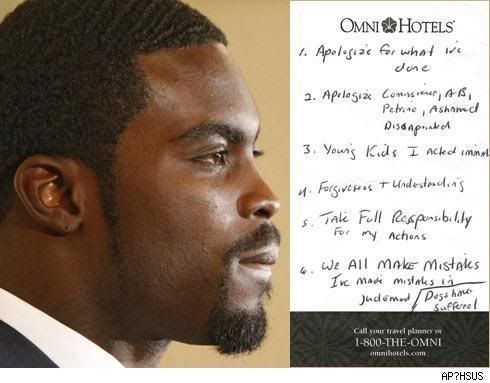 After Michael Vick's ever so heartfelt and touching (please read a great deal of sarcasm in that!) 4 minute apology on the 27th, he left the podium and leaves of all things, his 'notes' for his apology. And who should be next up th the podium, Chad Sisneros, a rep from the Humane Society! Once Sisneros realized what he held in his hand, he couldn't believe the irony. Could this get much more farcical?
Vick's big idea: apologize, apologize, apologize.
The points he wanted to make sure not to miss were;
Apologize for what I've done
Apologize Commissioner, AB, Petrino, ashamed disappointed
Young kids I acted immature
Forgiveness and understanding
Take full responsibility for my actions
We all make mistakes, I've made mistakes in judgments
At the very bottom of the note, almost as an afterthought; "dogs have suffered."
If you go through the transcript of the 'apology,' you see how he goes through his 'points' one by one, in between in 'you knows,' and this is after his opening his statement saying that he wanted to "take this opportunity just to speak from the heart."
Wayne Percell of the Humane Society wrote in his blog, "Watching video of the event, I recall Vick reading through his talking points. I don't recall him getting to those words at the end. No, for some reason, he didn't get to the dogs on whom he inflicted such tortures. The biggest apology of all was left unspoken-to the dogs who suffered and who died so horribly at his hand."
The closest he comes to saying anything at all about the dogs is, "Dogfighting is a terrible thing." That right, the apology that many of us wanted to hear the most was completely left out.
Well now the Humane Society will profit from Vick's notes. They are being auctioned off on eBay and the proceeds will benefit the Humane Society's Animal Cruelty Response and Reward Fund. Right now the bidding it up to $3,200 with the auction to end on Sept 14.
Email This Post
Like this post? Subscribe to my RSS feed and get loads more!