Humane Society Threatens to Confiscate Dog Because It's Fat!
Wednesday, October 17th, 2007 at 2:24 pm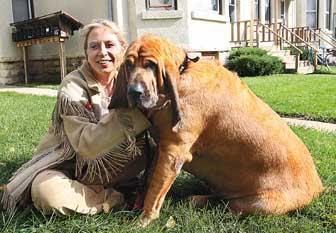 Now I can understand the Human Society being concerned over animal issues such as abuse and neglect but I think it is a bit preposterous to go after this woman, Fawn Lunde, because they say her bloodhound, Tobias, is "morbidly obese."
Yes, overweight dogs and animals do have a shortened lifespan just as human beings do, I understand that but there's more to this story than just a 'fat dog.'
To Fawn Lunde, Tobias is a dream come true, the dog she's wanted since she fell in love at age 7 with Duke, the bloodhound on "The Beverly Hillbillies."

In March 2002, the La Crosse woman sold her pickup truck to buy the puppy from a Missouri breeder.

"He's my best friend," said Lunde, 45.

But to the animal control department of the Coulee Region Humane Society, 5-year-old Tobias is something else: morbidly obese.

It led senior humane officer Amiie Gabrilska on Sept. 21, 2006, to order that Lunde have a diet analysis and weight loss plan done for the 197-pound hound.

"Clearly, an animal that's grossly obese has a shortened lifespan," Gabrilska said.

It was among 619 "compliance orders" the department issued to pet owners in 2006, Gabrilska said. If the requirements aren't met in a timely manner, the department may cite the owner and eventually even confiscate the pet.

But Lunde's example shows the process doesn't always work smoothly.

She said she felt pressured to enroll Tobias in a weight-therapy program at La Crosse Veterinary Clinic that included weekly weigh-ins and dramatically reducing his food rations. The cost: $1,200 over nearly five months, she said.

Tobias' weight loss: 0.

"I may not be the smartest cookie," Lunde said, "but I do know when there's a weight problem, it could be due to thyroid or pituitary gland problems. I kept telling them that, but they were so set on the idea that I was overfeeding him."

A La Crosse County social worker, who asked not to be identified, said she went to each weight-control session with Lunde and Tobias. She attributed some of the miscommunication to Lunde's depression and post-traumatic stress disorder.

"When Fawn's under stress, things don't come out nicely," she said. "She tends to cry a lot and probably comes across as hysterical."

But she's always taken meticulous care of her pets, the woman said, and actually needs them. A Gundersen Lutheran doctor wrote in an Oct. 2 prescription that Lunde should have the dog "for therapeutic reasons. This is medically necessary."

Lunde paid for a blood test for Tobias in September at VCA Sand Lake Animal Hospital in Onalaska, Wis. The low end of normal is 0.8, said veterinary technician Brandi Aliesch, and Tobias scored 0.3.

"It's most likely his obesity was caused by thyroid problems," she said.

The clinic prescribed medication for him Sept. 15, she said. Since then, he has lost 9 pounds, which Aliesch called "incredible."

But Lunde said animal control recently asked for access to her financial records, concerned she can't afford Tobias' ongoing care.

She told them her income from disability always has been enough to provide proper care and feeding for her pets. She worries more about her own health, she said, if Tobias were taken from her.

She's already given up one dog after being told she could not afford two, she said.

At this point, Lunde is not sure what future actions might be taken concerning Tobias.

Gabrilska declined comment on specifics of the case, citing confidentiality. (LaCrosse Tribune)
Ok, now you tell me, do you see a problem here?  There are so many serious animal issues that desperately need to be dealt with, serious neglect and abuse issues, and they are harassing this woman who loves and cares for her dog.  And then they are demanding financial records!  What hypocrisy!  Get your priorities straight! Idiots!
Email This Post
Like this post? Subscribe to my RSS feed and get loads more!