Hundreds and Hundreds of Dogs Rescued, More Than 1500 Puppies Expected
Monday, January 26th, 2009 at 10:45 am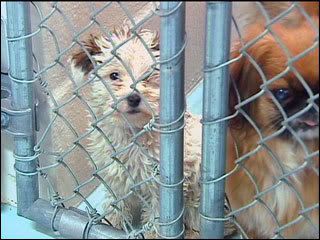 Update 2/11/09 – Charges in Snohomish and Skagit, WA Puppy Mill Cases
Raids in Washington, in Snohomish and Skagit counties, have seized around 600 puppy mill dogs.
At a Skagit county home owned by Marjorie and Richard Sundberg, about 135 dogs were removed after being found without food, water or heat, crammed into small cages, filthy and matted, covered with feces and urine. More than 300 were left at the 16000 block of Mountain View Road home outside Mount Vernon at the time because they appeared to be in stable condition.
Seven dogs, puppies and adults, were also found dead inside of a bin but cause of death has not been determined.
At least 4 dogs were taken for medical care suffering from dehydration and one, covered in a t-shirt, was found to have open sores.
Another 70 or 80 dogs were seized from 16000 block of West Big Lake in Mount Vernon, another Sundberg kennel, many of them barely alive, covered in their own waste.
Earlier, at a Snohomish property near Gold Bar, owned by one of the Sundberg daughters, 155 dogs were seized, many of then sick, 87 of them hidden in the attic and numerous dead puppies found in a freezer.
Investigators say they've been told the breeding operation in Gold Bar alone made millions of dollars each year.
Evidence led investigator to two other homes, also owned by Sundberg daughters. At one they found 44 dogs, more than the license allowed for but the dogs appeared in good shape so they were allowed to remain. At the other home, owned by the same daughter who owns the property near Gold Bar, there were no dog but plenty of evidence that there had been. Witnesses said that dog were removed from there in the middle of the night and most likely taken to the mother's Skagit County property.
Conditions were so disgusting at the they shocked even veteran animal control officers.
The Skagit property has long been know to officials because it has been in operation for years without the proper permits and licenses. Snohomish County Superior Court records show the Skagit County kennel operated for more than three years without a business license. When the business owner filed a land-use permit, Skagit County officials opposed the operation, calling it a "puppy mill," according to a hearing examiner report included in the court file.
On Friday the additional dogs at the Skagit County property were seized bringing the total to over 600 dogs. The the dogs found there were mostly small dogs, including chihuahuas, Shih Tzus, poodles and Yorkshire terriers. Several of the newly seized dogs as well as several of the dogs from the earlier seizure have tested positive for a potentially deadly intestinal disorder called coccidia.
The dogs seized in Skagit County now are being cared for by volunteers at the Skagit County Fairgrounds and in private homes. The dogs seized from the Snohomish property are being cared for at the Everett Animal Shelter. At the Skagit County Fairgrounds on Friday, an army of animal-control officers, sheriff's deputies, rescue activists and volunteers worked to transport, sort, clean, bathe and medicate the animals.
The dogs' owners have 15 days to either surrender the animals to the counties or post a bond that would cover the medical and boarding costs for the animals for the duration of their stay in the shelter could be lengthy.
And now a bigger problem is coming to light. Approximately 80% of the seized dogs are pregnant. Numerous litters have already been born and official expect there to be about 1500 puppies coming. already taxed resources will be beyond inadequate to care for all the dogs and puppies.
Animal rescue officers say a typical litter for a stressed dog is about three pups, and roughly 500 of the dogs are pregnant.
"We're going to be having puppies born here probably every day as long as they're here," says Animal Services Director Bud Wessman.
Animal service will be caring for more than 2000 dogs and puppies shortly!
Animal control officers are asking that anyone who has purchased a dog from the Mountain View kennel belonging to Sundbergs to call the Skagit County Sheriff's office as this information may be important to their investigation.
The contact is Animal Control officer JoHannah Deterding, who can be reached at (360) 336-9450 or at johannad@co.skagit.wa.us.
Although animal cruelty charges have not yet been filed, they are expected to be as soon as investigators get thins more sorted out.
Email This Post
Like this post? Subscribe to my RSS feed and get loads more!