Hundreds of Sick, Starving, Suffering Animals Seized
Thursday, August 14th, 2008 at 8:03 am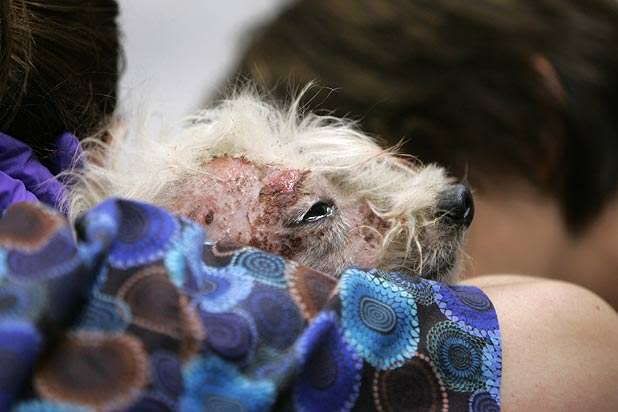 An 80-acre rural property near Pleasant Hope in southwest Missouri, hidden away in the middle of nowhere at the end of a dead end road was a scene of incredible squalor and filth; hundreds of sick, half starved animals, families with children, house trailers stacked to the ceilings with junk, trash and debris, crawling with cockroaches. the only source of water was a bunch of strung together garden hoses!

More than 360 animals, both domesticated and farm animals were rescued from this property on Tuesday including more than 70 dogs and more than three dozen cats, plus donkeys, rabbits, ducks, chickens, and exotic fish. The Humane Society of Missouri and Polk County also found 12 to 15 dead rabbits, dogs, cats, and poultry.
Authorities descended upon the property with warrants after the family who owns the land failed to heed warnings last month to begin providing proper care, said Tim Rickey, the Humane Society's director of rescues and investigations.

In the days since those warnings, many of the animals had been released from their cages, prompting neighbors to complain. Authorities took a closer look and found that children also were on the 80-acre rural property near Pleasant Hope in southwest Missouri. Child-welfare workers removed the children were about a week ago, Bruce said.

Property owner Virginia Gambriel, 61, was arrested and charged Tuesday with two counts of felony child endangerment over living conditions Bruce described as the worst he's seen in 16 years of public service.

More charges are expected, against Gambriel and others, Bruce said. Gambriel is being held on $7,500 bond, and doesn't yet have an attorney, he said.

Three families lived on the property, authorities said, but the total number of residents wasn't clear. The property, littered with 15 to 20 abandoned vehicles, was "in the brush in the middle of nowhere on a dead-end road" that deputies rarely visited, Bruce said.

"We've known for a while they were a little strange, that they didn't want interference from the outside world, but unless we're down there on a call, it's not part of our routine patrol," Bruce said.

The local Humane Society called the rescue the largest it ever had undertaken and said the people were "clearly hoarders" who were raising and breeding rabbits and dogs, but not necessarily for sale.

The creatures were half friendly, half shy and almost all of them afraid. Many of the animals were running loose, Rickey said.

Investigators said the animals had lived in filthy, deplorable conditions without adequate food, water and shelter. Many are underweight and suffering from poor skin and coat conditions and other maladies.

Bruce said Gambriel told him most of the dogs were abandoned strays she picked up and brought home.

A custody hearing for the animals was set for Sept. 2 in Bolivar.

The horses and farm animals will be treated at the Humane Society's Longmeadow Rescue Ranch in Union, while others will be taken to the St. Louis headquarters.

They will not be available immediately for adoption, but donations of money, bedding, food, cages, and toys are needed, along with volunteers, the Society said.

St. Louis psychotherapist Alec Pollard said hoarding is a serious psychiatric disorder that impairs judgment.

Pollard said typically an animal hoarder goes to court, evokes the judge's pity, and walks away with a warning but no mandated treatment.

"Jail is inappropriate for these folks, but to go untreated is not the answer either," he said. (AOL News)
What do you do with people like this? They're obviously sick and they need some serious help.
I guess at this point we can just be glad the children and animals have been removed and will get the care and help they do desperately need. It's just sad!!
Email This Post
Like this post? Subscribe to my RSS feed and get loads more!