"I Am Guilty," says Juvenile Abuser
Thursday, December 18th, 2008 at 9:48 am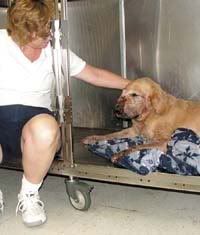 In early October in Dublin, GA, a stray Golden Retriever was found that had been brutally abused, he'd been shot with birdshot, an arrow embedded in his leg and an attempt was made to drag the dog and the culprit in this cruel, depraved crime? A 13 year-old boy!
Earlier this week, the boy was in court to face charges which according to the judge in the case, Judge Bill Tribble were as follows;
"You are charged with committing cruelty to animals in Laurens County on October 12, 2008 for the unjustifiable shooting with arrow in violation of the official code of Georgia 16-12-4b."Tribble said to the defendant as he read the charges. "Count two, also misdemeanor cruelty to animals committed on the same date for dragging the animal from a 4-wheeler. Count three, a felony cruelty to animals for knowingly and maliciously causing harm by seriously disfiguring the animal's face."
Assistant District Attorney Terry Holland stated the facts of the case as follows;
"On October 12, 2008, a neighbor of the defendant heard what he thought was a gunshot sound. Shortly after that he saw a dog and someone he could not identify at that point," stated Holland. "He saw the individual take a rope and tie it to a 4-wheeler and attempt to drag the dog. Neighbors called law enforcement and they found a badly injured dog… shot in the face at close range with a shotgun and shot in the leg with an arrow. Upon investigation officers went about the neighborhood and found a 4-wheeler fitting the description."
When deputies questioned the boy, he admitted to them what he did, "The young man stated he had indeed shot the dog with a bow and arrow and after that attempted to do further harm with a shotgun and attempted to drag it away."
Amazingly enough, the boy actually stood up in court and withdrew his not guilty plea and simply stated, "I am guilty."
"The first two offenses are misdemeanors," Tribble said to the juvenile. "The third is a felony and a much more serious offense. Here is what happens when you enter an admission of guilt – you no longer have a right to a trial, you lose your presumption of innocence and you can no longer subpoena witnesses or testify. Are you freely and voluntarily admitting the charges?"
Again he affirmed his guilt twice more.
The boy was released back to the custody of his parents and will remain under house arrest.  He is to have no possession of any firearms and cannot contact any of the witnesses in the case.  He will undergo a psychological evaluation prior to his sentencing hearing in January.
Under state code, the judge may consider probation, restitution community service, an institution or commit the juvenile to the Department of Juvenile Justice.
As for the abused dog, named Yellow by Shamrock Pet Care staffers, he is now blind in his right eye and his sense of smell has drastically been affected due to the shotgun blast. Over 100 bird shot pelted the dog's face and remain embedded there today. The brunt of the blast shattered the dog's nose and left a crater over an inch in diameter and equally as deep. He required several surgeries for his injuries.
The community really rallied around Yellow and donations were collected for his care and surgeries.  He's become a bit of a celebrity and now will give back to the community that gave to him.
Hickman and Woodard of Shamrock Pet Care, said the clinic has decided to put Yellow into service as a "therapy dog" in the Dublin area so he can visit battered women's shelters, assisted-living communities and other facilities to raise residents' spirits.
"It's so he can give back to the community that's given so much to him," Hickman said. "That way he can give back to everybody."
For a dog that has gone through what he has and has still managed to keep his loving nature, this is probably the best thing that could happen to him. He get all the love, pets and nuzzles a dog could possibly want and be an inspiration to many.
Honestly, I am amazed that this boy actually stepped up and is taking responsibility for his cruel actions.  That's a lot more than most of the trash I write about here do.  Is there actually a chance for him? Who knows, time will tell.  Maybe if he gets some real help… possibly.
Email This Post
Like this post? Subscribe to my RSS feed and get loads more!