Incredible Update on Starved Dog!! And Another Slap on the Wrist
Thursday, September 25th, 2008 at 8:00 am
In April I did a story on a dog that was so starved that his bones were literally protruding from his skin. Just looking at the pictures brought me to tears. Well, now his picture may still bring tears to your eyes but they will be tears of joy!
Meet Shamus today. Only about 5 months ago this sweet boy, an Irish Wolfhound/Sheepdog mix, weighed all of 35 lbs, 1/4 of what he should have weighed. Now he's up to a reputable and healthy 120 lbs and what a beautiful boy he is too!! And the best part of the story, Shamus is just about ready for adoption, to find his forever home with a wonderful loving family in about two weeks.
After emergency veterinarian care at two local clinics, the dog was brought to the Maricopa County Sheriff's Office Animal Safehouse in the First Avenue Jail.

Female inmates nursed him around the clock for several months, feeding him, giving him required medications and daily visits to the MASH dog park atop the downtown jail.

He has fully recovered, gets along with other dogs and is housebroken.

Inmates say his only downfall is that he loves to drink water from a toilet.
Now for the sad part; the man who owned Shamus, the sick bastard who abused this dog to literal skin and bones, oh yes, he was found guilty but do you know the extent of his sentence? Yup, yet another slap on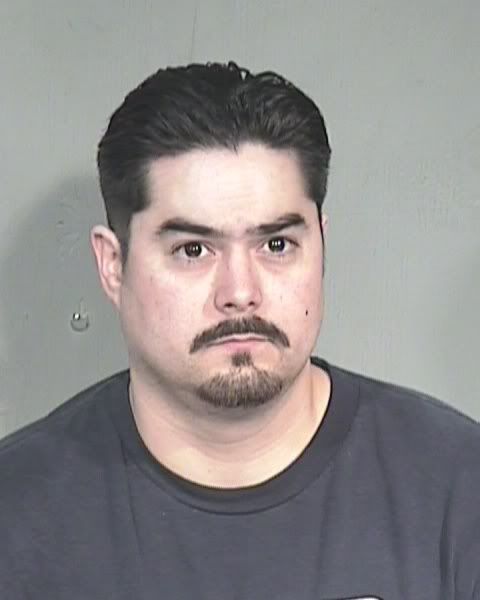 the wrist…William White, is now on probation after serving 12 days in jail and cannot own any animals for the next 18 months. (ABC15)
12 DAYS IN JAIL!! And in 18 months he will be able to own another pet!! Unbelievable!! Shamus spents months in the prison of his starved body, hunger gnawing at him day after day. Desperately scrounging for food.
Look at this face…. remember this face… this is the man who so cruelly starved this dog. Doesn't look like he missed too many meals. Now look at the picture above of Shamus, a living skeleton, and yes, that is his hipbone busted through the skin.
I tell ya right now, the justice system in this country needs a major overhaul when scum like this can practically get away with doing what he did and then be able to do out and get another dog and maybe do the same or even worse, although I am sure there were times that is Shamus were capable of thinking it, he would rather had been dead. Sick bastard!! JUSTICE WAS NOT SERVED!!
Email This Post
Like this post? Subscribe to my RSS feed and get loads more!