Inhumane Gallatin, TN, Vet William Baber Regains License
Sunday, April 27th, 2008 at 8:21 am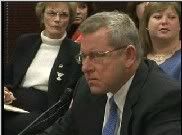 Shock and outrage! Dr. William 'Bill' Baber, the Gallatin, TN, who came under scrutiny in November for his inhumane euthansia methods, all caught on videotape, who was suspended, fined then arrested and charged with animal abuse, a list of 16 different charges, who had his license suspended, has now regained his veterinary license.
Yes, he can actually practice again, after killing untold hundreds of animals so cruelly that it garnered national attention and outrage. Unbelievable!!
William Baber had his license suspended after the Board of Veterinary Medical Examiners viewed video footage of his practices first aired by WSMV-TV in Nashville.

The video showed Baber injecting sodium pentobarbital directly into the animals' hearts, a procedure known as intracardial euthanasia. The procedure is legal in the state only if the animal is sedated.

Andrea Turner, a spokeswoman for the Tennessee Department of Health, said Thursday he met the requirements by the board to get his license back and will be required to appear before the board annually. Baber still faces criminal charges, including animal cruelty.(The Leaf Chronicle)
How can they allow this man, who is still facing 16 charges of animal cruelty practice on animals, regardless of whether he's on probation or not.
This is a man who is blaming the whole thing on the veterinary board because "he was unaware of state law that prohibited heart shot euthanasias without sedation."  This law went into effect in 1982!! He was unaware of a 24 year old law?!?
As I said before and will repeat again, maybe I'm wrong but I thought it was up to medical professionals to keep up with medical happenings through medical journals, associations, etc. His excuse s so typical of so many in society today, place the blame on someone else.
If he was unaware of such an important change, what else is he unaware of?? Has be bothered to even keep up with human medical treatments?
His euthansia methods caused some of the animals to suffered cruelly up to 30 minutes before they succumbed to death.  He was shown even stepping on the animals to immobilize them for the injection.  Anyone would know that this is not humane!! So how humane a vet could he be if he thought this was acceptable, even if he didn't know the law?
I don't buy his excuses and am highly disappointed, to put it mildly, that he license was reinstated!! This is not someone who should have anything to do with animal in any way, shape or form!!
Guess when he shows up in court to face th animal cruelty charges we can expect yet another 'slap on the wrist' sentence.  Yet another damn shame!
Email This Post
Like this post? Subscribe to my RSS feed and get loads more!