Iraqui Puppy Ratchet Hits US Soil – Video
Monday, October 20th, 2008 at 8:40 pm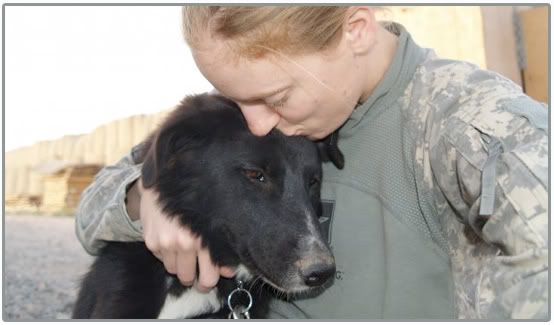 UPDATE 10/23/08 – Ratchet's a Hit in Minneapolis – VIDEO
A 6 month old stray puppy turned international celebrity placed his paws on US soil today! That's right, Gwen Beberg's puppy Ratchet is finally almost home!
Ratchet landed in Washington DC where he was greeted by reporters. Wearing a red, white and blue patriotic bandanna, he jumped out of his crate wagging his tail. He romped on the grass for a little while before he headed to a vet for a check-up, shots and microchip.
Vet, Dr. Chris Carskaddan, pronounced Ratchet extremely healthy as well as very cute.
Ratchet will sped two days at a kennel in DC then he'll be off to his new home in Minneapolis. Gwen's parents will take care of him until Gwen is home next month.
"I'm very excited that Ratchet will be waiting for me when I get home from Iraq! Words can't describe it," Beberg said in an e-mail to friends and family. "I hope that Ratchet's story will inspire people to continue the efforts to bring more service members' animals home from Iraq and Afghanistan."
Iraqui Puppy Ratchet Hits the US
What a happy day and the real happy ending will be when Ratchet and Gwen are finally reunited!!
Email This Post
Like this post? Subscribe to my RSS feed and get loads more!