Is Michael Vick Negotiating a Plea?
Tuesday, August 14th, 2007 at 5:28 pm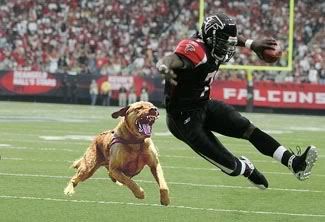 There's a definite possibly of it! Yesterday it was announced that his two remaining co-defendants, Purnell A. Peace, 35, of Virginia Beach and Quanis L. Phillips, 28, of Atlanta are schedule to enter plea agreements. Quanis Phillips of Atlanta is scheduled for Friday at 9 a.m. and Purnell Peace of Virginia Beach is scheduled for Thursday morning at 9 a.m to enter their plea agreements for two felony crimes, conspiracy to commit an unlawful act and sponsoring an animal in an unlawful animal fighting venture. (UPDATE – Pernell Peace's hearing has been rescheduled for Friday, 15 minutes after Quanis Phillips)
And we also know that Michael Vick has been offered a plea agreement and that he has only until Friday to make a decision before he is hit with other charges. Now we hear that his attorneys have entered into negotiations with federal prosecutors although his attorney, Collin Spencer has declined to comment.
He did indicate that a meeting was scheduled with Vick this morning and that an announcement may be forthcoming.
According to federal sentencing guidelines, Vick will most likely be facing prison time if the announcement comes that he agrees to a plea.
Vick's motivation to enter a guilty plea is likely fueled by the U.S. Attorney's Office announcement last month that it will seek a new "superseding" indictment against Vick by the end of August. With the cooperation of Vick's three co-defendants, there will likely be new, and more specific, allegations against Vick. The federal grand jury in Richmond is expected to hand up that indictment sometime early next week. (Atlanta Journal-Constitution)
According to news sources, Vick's lawyers are advising him to plead guilty to the charges now to avoid additional more serious charges against him being filed. It seems they are holding out for a deal which would offer Vick a year or less in prison and saves his NFL career but so far the feds haven't been quite so lenient.
Early next week a federal grand jury in Richmond, Va., will begin hearing new allegations against Vick. So could things get worse for Michael Vick if he doesn't take the plea?
Yes, it could get worse in a hurry. The federal prosecutors in Richmond are preparing a new set of charges, known in legal terms as a superseding indictment. The new charges could come any day. The new charges might include a racketeering allegation under the Racketeer Influenced and Corrupt Organizations Act (known as RICO). RICO originally was designed as a weapon against organized-crime hoodlums but has been used frequently in other prosecutions. A charge under RICO would make Vick's situation significantly worse. It would make the government's case against him easier to prove, and it would increase the prison sentence Vick would face if convicted.
At this point the only thing that can really save Vick is an outright acquittal and with seven eyewitnesses prepared to testify against him, that likelihood of that is looking less and less.
Oh, and just as an aside, Michael Vick has also been hit with a $63 billion dollar lawsuit filed by a South Carolina inmate who alleges the Atlanta Falcons star stole his pit bulls and sold them on eBay to buy "missiles from Iran." To me this is just too far fetched to elaborate on!
So as the saying goes – Stay tuned for further developments!
For more background and information as well as all up to date related posts, the full indictment and Tony Taylor's "Statement of Facts," please see – Michael Vick and Dogfighting
Email This Post
Like this post? Subscribe to my RSS feed and get loads more!