Is Today the Day of Reckoning for Francesca and Brindi?
Monday, January 5th, 2009 at 10:35 am
Update 1/16/09 – Brindi is Going Home!!
Today Francesca Rogier goes before the Nova Scotia Supreme Court in Halifax to try to save her beloved dog, Brindi's life. For more than five months Brindi, a a beautiful 5 year old lab/shepherd mix, has sat on death row at the Halifax SPCA while Francesca has mounted a campaign to save her life and have her beloved dog returned to her. She has not even been able to see Brindi in all this time.
So Francesca will be in court today along with her lawyer, Blair Mitchell, armed with documents to prove that Brindi is not dangerous including assessments from professional trainers. Along with saving Brindi's life, they want to put an end to, what Mitchell calls a "terribly misconceived" bylaw.
"It's one of the few bylaws in place, of many across the country, where there is a decision to kill a dog based on . . . an animal control officer, where it's not reviewed by a court or by an appeal tribunal," Mr. Mitchell said.
If the Supreme Court in Halifax rules against Francesca and Brindi, Mitchell will not stop there, He will file an appeal and Francesca will follow through on a wrongful seizure lawsuit already filed against Halifax Regional Municipality.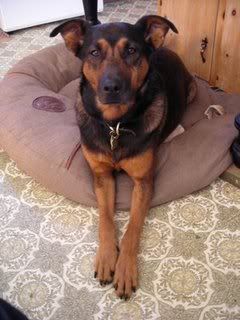 Francesca is not alone is her crusade to save Brindi and overturn the bylaw, she has many supporters including a Facebook group, a blog and two online petitions garnering interest from pet lovers around the world. Sadly, although the petitions have amassed many signatures, Francesca was not allowed to present them because they lacked addresses.  In October Francesca "received a reply from the city clerk: the online petitions will not be presented to the Council next week, because they lack street addresses for all the signees. This is some 1800 names we are talking about. "
Now one of the petitions has almost 2400 signatures, while the other has over 1800. And Francesca is getting many messages of support from all over the world.
Many messages coming in on Facebook and email, from across Canada and the US – from North Carolina to Colorado, California, and Texas – as well as Holland, Peru, Italy, South Africa, England, Scotland, France, Brazil, New Zealand, and Australia – accompanying the letter below – plus more! Support also from Dr. Andrew Jones, an online veterinarian; Gerdy's Rescue in Montreal, D.A.I.S.Y. Foundation in Calgary, Teja's Animal Rescue in Ontario, and the Kinship Circle in St. Louis, Missouri. Presumably, as Heather Anderson reports, from the Animal Rescue Coalition here in Nova Scotia. Plus bloggers – TitanicBugle and Dogkisser (Joan Sinden) here on blogspot; Susan Ito on readingwritingliving at wordpress; For the Love of the Dog, and others.
Francesca also has her detractors as well but for most anyone who has ever loved a dog and has taken the time to really read Brindi and Francesca's story and to understand, they understand. This is not a case of an aggressive dog blithely going out an attacking. Rather this is a case of a dog that has a rough beginning, who was adopted when she was almost 4 years old, had only been with Francesca for a year and was wonderful around every person she was every with, including children. On two occasions did Brindi go after other dogs. No, this is not good but there was no serious injury, she just basically grabbed the dogs by the scruff of the neck. On the last occasion, the incident that caused Brindi to be incarcerated, Brindi did not even do anything but bark and circle a man with his dogs. The man actually kicked Brindi.
Now, there is no doubt that something does need to be done. Brindi needs to be secured better, for her own safety and that of other dogs. She needs training as well. Francesca has already constructed an enclosure for Brindi and had already begun training before the last incident which she would no doubt continue and reinforce id she can only bring Brindi home to her. Numerous trainers have echoed that Brindi is not dangerous, just in need of training. Should her life really be forfeit?
Take the time to read the previous two stories I did on Brindi and Francesa, here and here and visit Francesca's blog – Free Brindi. Then send your support along with some hope and prayers her way today, she is going to need them!
Email This Post
Like this post? Subscribe to my RSS feed and get loads more!