It Really is a Happy New Year for One Abused Dog – VIDEO
Friday, January 2nd, 2009 at 9:04 am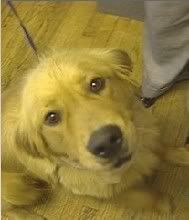 In July, Hammer, a sweet Golden Retriever, wound up in a vet's office with a heavy chain deeply embedded into his neck. He'd been chained to a tree outside a trailer in Proctorville, Ohio and neglected.
Hammer's owner, Bruce Skinner, was charged with animal cruelty and his sentence was a fine and community service.  Not much of a sentence but not much of a surprise either.  At least Hammer is out of his hands and his new life is going to be much different than his old one.
Hammer has a new home, new owners and a new name.
Linda and Jerry Ginn just recently lost their own beloved dog of 13 years and it was a very difficult experience as losing a pet always is.
"I stayed with them when they gave them the shot and put them to sleep. It was hard," Jerry said.
Only one of the hundreds of people that applied to adopt Hammer, the Ginn's wrote a letter about why they wanted to adopt him along with providing their references and just when they needed him most there was a knock at the door and there he was.
"She was standing there and there was Hammer. Just like that, he was ours," Jerry said.
Now this sweet and beautiful dog, renamed Boomer, is a loving home where he will be cosseted and pampered. No more living outside at the end of a chain doomed to suffer only neglect.
"He has an ornament on the tree," said Linda. "He's the love of our life. I couldn't live without him."
A truly happy ending for this one abused dog. I wish all endings could be so wonderful!
Email This Post
Like this post? Subscribe to my RSS feed and get loads more!