It Was a Beagly Day at Westminster!
Wednesday, February 13th, 2008 at 7:46 am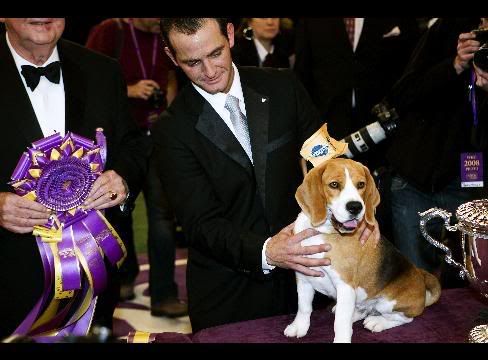 Yup, Uno, a 15″ beagle, top dog in the hound class also took top dog in show!! Although beagles have consistently ranked in the top 10 of the most popular dog breeds since 1915, this is the first time the spunky breed has taken top honors at Westminster in the 132 year history.
Uno beat out six highly ranked pooches to take the win, a standard and toy poodle, a Sealyham terrier, an akita, a weimaraner and an Australian shepherd.
"Everything he does is correct," said J. Donald Jones, the 75-year-old judge who bestowed the top prize for purebreds on the beagle. "This is a great dog."
"He's what a beagle is supposed to be," his 29-year-old handler, Aaron Wilkerson, told reporters as Uno bayed and barked. HA merry little hound."
Email This Post
Like this post? Subscribe to my RSS feed and get loads more!