Jail for Man Who Dumped Starved Dog in Donation Bin
Wednesday, March 25th, 2009 at 8:27 am
Last September a horrifically starved dog was found dumped in a clothing donation bin in Hyde Park in the parking lot of the Stop and Shop on St. Andrews Road. Luckily she was found in time and although it was a long hard road back to health for this sweet little girl, she rallied and Sally, as she was named, short for Salvation, became more than just a starved dog, she became a symbol and a face of all the starved and abused dogs. She visited and showed off at Marist College where students will use Sally's example as a starting point to develop a public relations campaign to prevent animal abuse.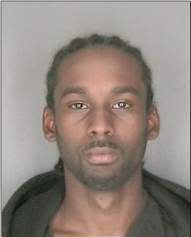 She helped Dutchess County SPCA host a food drive. And best of all, she was adopted into a wonderful home!
As wonderful as the fact that she survived, what is amazing is that police actually caught and prosecuted the heartless piece of trash who starved and dumped her! Gary Lee Rhodes, 28, of Poughkeepsie was the owner of Sally and as result of a joint investigation between the Dutchess County Sheriff's Office, Dutchess County SPCA Law Enforcement Unit, City of Poughkeepsie Police and the Dutchess County Field Intelligence Group he was apprehended and arrested.
In November Rhodes entered a plea of guilty and yesterday he was sentenced.  The max sentenced for the misdemeanor charge was a year in jail and Hyde Park Town Justice David Steinberg sentenced him to 8 months. I would have liked to see the full year sentence imposed but this is more than the usual slap on the wrist we too often see.
All in all I'm pretty pleased with the ending of this story; Sally recovererd and adopted into a wonderful loving home and the trash that starved and dumped her will be spending some time behind bars.
Email This Post
Like this post? Subscribe to my RSS feed and get loads more!