Judge Rules; Reinstate NC Trooper Charles Jones – Call to Action!
Friday, June 6th, 2008 at 8:18 am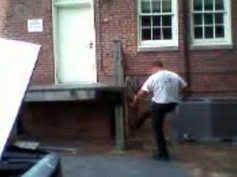 It is totally incomprehensible to me that anyone could possibly recommend that NC Trooper Charles Jones be reinstated after viewing the violent abuse against his K-9 that was videotaped! Not only reinstated, but have his back wages and lawyer's fees paid!
Administrative Law Judge Fred Morrison, who handed down the recommendation, stated that Jones was fired without the incident being properly investigated. How the hell much investigation does it take to look at a videotape and see that this trooper's disciplinary method was violent and abusive? What kind of an excuse can someone give for doing something like that that would make it acceptable?
State employees are not allowed to be fired or demoted unless there is just cause, and the state must be able to prove that there is just cause in each case. In his ruling, Judge Morrison said that the burden of proof was not met and that Jones was making "a good faith training effort to make Ricoh release." (News 14)
Good faith training effort?!?!? Hanging, kicking and beating the dog is a "good faith training effort"?
Testimony also included troopers saying training methods included whatever worked with their dogs, including: choke collars, stun guns, sticks, cans filled with rocks, Alpha Rolls, windmilling, helicoptering, tying-off, tethering, lifting-up. They seemed to believe all these to be acceptable 'training methods'.
Lt. Everett Clendenin, a spokesman for the Patrol, said the agency will likely contest the judge's ruling. Crime Control and Public Safety Secretary Bryan Beatty still believes Jones should have been fired.
"We're surprised. We believe this agency did the right thing, based on the investigation, based on the video. "And we stand by that decision that we made," spokesman Lt. Everett Clendenin said Thursday.
In September on 2007, Sgt Charles Jones was fired from his position after he was videotaped on August 8, 2006, hanging and kicking his K-9 partner, a 9 year old Belgian Malinois, because he would not drop a toy. This was after he had 'helicoptored' the dog, a technique in which a dog is swung off the ground by his leash.
"Dog experts say trooper Jones' conduct was completely unacceptable," Easley said Thursday following the judge's decision. "If the state has to resort to that level of cruelty to train dogs demonstrated in the video by trooper Jones, then they will simply not be in the dog business."
At this point the judge's ruling is just a recommendation and will be reviewed by the Office of State Personnel, which can reject, modify or agree with the decision.
Jones originally faced a three-day suspension, based on the first video. But patrol Captain Ken Castelloe, who was Internal Affairs director at the time, said he recommended firing Jones after reviewing the second video. He said it showed that Jones' actions were more egregious because he left the dog hanging after it had released the toy.
Bryan Beatty, secretary of the state Department of Crime Control and Public Safety, testified that Jones was fired only after a careful review.
Disturbed by evidence that some troopers thought kicking a dog was acceptable training and that testimony about "abusing dogs to get compliance" was inconsistent with an independent review of the K-9 program, Beatty, suspended K-9 operations following testimony from Jones' hearing.
Morrison also said, "My final conclusion is that the State of North Carolina forego the future use of dogs such as Ricoh for law enforcement purposes, unless it purchases fully trained canines to be handled by fully trained troopers who are given specific written compliance techniques."
You can watch the video clip below – WARNING – it may disturb some viewers
Public opinion has run high regarding this case with an extreme majority in favor of the firing of the trooper and many feeling that not only should the trooper be fired but also face criminal prosecution for animal abuse.
The PETITION calling for Justice for K-9 officers and prosecution for Jones has almost 1000 signatures, some of them recent as yesterday after the ruling was handed down. Needless to say, people are not pleased!!
WHAT CAN YOU DO?
You can show your displeasure by writing, calling and emailing. Be polite and courteous but let the Judge, Governor and Officers of NC law enforcement know that you are displeased with the ruling and in favor of keeping Jones off the force. The judge's ruling is NOT FINAL! It has yet to be reviewed by the Office of State Personnel, which can reject, modify or agree with the decision.
WRITE or CALL NOW!
Governor Mike Easley— In favor of the firing
Governor of North Carolina
Office of the Governor
20301 Mail Service Center
Raleigh, NC 27699-0301

http://www.governor.state.nc.us/email.asp?to=1 or governor.office@ncmail.net
(919) 733-4240 or (919) 733-5811
Crime Control and Public Safety Secretary Bryan Beatty — In favor of the firing
Crime Control and Public Safety Division
4701 Mail Service Center
Raleigh, NC 27699-4701
(919) 733-2126 or http://www.nccrimecontrol.org/ContactUs.cfm and choose Office of the Secretary in the dropdown
Captain Ken Castelloe, NC State Highway Patrol — Supported firing (not after seeing the first video, which is absurd, but after watching the second video)
(919) 733-7952
Public Information Officer Lt. Everett Clendenin
(919) 733-5027
Both can be mailed at the following address;
North Carolina State Highway Patrol
4702 Mail Service Center
Raleigh, NC 27699-4702
Snail mail properly addressed and politely worded will get the strongest response. No ranting or raving, that will only hurt our position!!
Email This Post
Like this post? Subscribe to my RSS feed and get loads more!