Just One of the Many Sad Faces of Animal Abuse
Thursday, April 10th, 2008 at 8:07 am
Meet Lucky, doesn't look so lucky does he, but actually he is one of the lucky ones and so he has been named.
Th is little three month old puppy was badly burned by either chemicals or fire then dumped in a box and abandoned on the side of the road to die a miserable, lonely and painful death.
But thanks to a good Samaritan, Dawn Wilyard, he didn't die and now is on the road to recovery. He will always carry the scars of his abuse though.
A friend of Wilyard's called her and said that she had a puppy abandoned on the side of the Lylewood Road, Clarksville, TN, left to die. The friend couldn't stop to help but knew that Wilyard would be able to. She went out to the area and at first didn't see the puppy, just the torn up box it had been dumped in.
"I couldn't really see him, so I thought, 'He's not there, he must have took off,' but he just wasn't moving. Then I saw that," Wilyard said, pointing to a picture she had taken of the puppy, skin missing from its head as if someone took a cheese grater to it and its rib bones showing because of malnourishment. "I cried … it looked as if someone had thrown him, the way he was laying in the box."
She took the puppy to a vet, Animal House Veterinary Clinic on Dover Road, battling tears.
"All he did the whole time was sit in my lap and cuddle," Wilyard said. "They washed him, and at first they thought he might have been attacked, but I talked to them a day after and they said, more than likely, he had been burned."
After bathing him, they gave him a few rounds of medicine for deworming, mange, mites and yeast and bacterial infections. He's still on three different medications, two times a day.

They dubbed him, quite aptly, "Lucky."

And lucky he was — his rescuer works for Walden's Puddle Wildlife Rehabilitation, a group that rescues animals, and she also has a habit of rescuing domestic animals from the cruelty of humans.

In fact, she's rescued three dogs, eight cats, a pig, ferret, snake, rat and opossum — all of which she calls her pets.

Unfortunately, Wilyard couldn't afford Lucky's vet bill, nor can she provide the permanent home or attention Lucky's condition requires.

Luckily for Lucky, Wilyard shared the puppy's story with friends online, and a friend in California paid Lucky's vet bill in full.

Wilyard said Lucky's treatment isn't over, however — the veterinarian estimated he needs another $1,000 in treatment, which also includes routine immunizations, blood work and neutering when his health is back up to par.

There's a fund set up for Lucky at the Animal House Veterinary Clinic, Wilyard said, for those who wish to help the puppy.

"I've had about nine people call wanting to adopt — but that's going to be a long road," Wilyard said. "I'm going to keep him until he's got a clean bill of health from the vet, then he'll be up for adoption."

Wilyard said "he will make a great addition to someone's family — all he needs is help."

Wilyard said she doesn't know who would do such a thing to a puppy, but "whoever did it to him, it's neglect or it's intentional — and it's heartbreaking."

"He didn't ask for this," she said. "Thank God I will never understand how people can do this."(The Leaf Chronicle)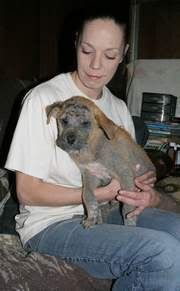 Only three days after being found, Lucky was nuzzling and feeling playful, chewing on a rawhide. The little guy has a long hard road to travel but he's on his way.
"This is what three days of love, affection and medical care does," Wilyard said as the puppy cocked its head slightly to one side, looking curiously at a nearby cat.
Most abandoned animals aren't as fortunate as Lucky to be rescued though most are not abused as viciously and violently as he had been.
Usually abandoned pets wound up in shelters where if lucky 1 in 3 may find a home and pets found in the condition that Lucky was usually have no chance at all due to lack of funding. That's the reason that Wilyard took care of Lucky herself rather than turn the puppy over to animal control.
People who have pets need to understand the responsibility that goes along with them. They are not disposable! They are living, breathing, feeling creatures.
"The irresponsibility and lack of value of life that people don't want to demonstrate or simply don't have — if they can do that to an animal you can imagine some of the conditions children are living in."
And as unlikely as it is, if the person who dumped this poor puppy is ever found, they would face felony charges!
Email This Post
Like this post? Subscribe to my RSS feed and get loads more!