Justice Drops the Ball Again! 41 Dead Dogs, Plea Deal and Probation
Friday, October 17th, 2008 at 10:11 am
Troy Tagtmeyer owned a breeding kennel, Neco Kennel, on County Road 31 north of Stratton in Colorado. In May, authorities found 40 dead dogs. They'd been left locked in their kennel to starve to death and some were in such bad shape that they couldn't even recognize the breed. Of the six dogs that were still alive, one later died from dehydration and malnutrition.
Tagtmeyer was charged with 46 felony counts of aggravated animal cruelty. Later a 47th count was added for attempting to deceive a state animal welfare investigator.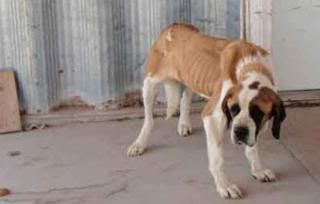 One of the saddest things about this case is that in February Tagtmeyer lost his kennel license after a failed inspection, was told to close his kennel and given two weeks to place the dogs in suitable homes.
"There were repeat issues of cleanliness, some animal care issues and waste disposal," Anderson said. "At that time, we were told the kennel was closing."
Follow-up was done by phone and mail, no one ever went back to make sure that the order was carried out until a state investigator visited the property when the 40 dead dogs were found. This horrific situation could have been avoided!
And when authorities removed the dogs from the kennel, Tagtmeyer was actually allowed to keep several dogs that were in his home, pregnant dogs, because the warrant did not include the house.
Faced with the 46 Class 6 felony charges for aggravated animal abuse, Tagtmeyer could have been facing, for each charge, a one-to-two-year sentence with a $1,000 to $100,000 fine per charge. Additionally, with aggravated circumstances, prison time could reach a maximum of four years per charge.
And now what is he going to be facing with the plea deal which drops everything but one animal cruelty charge? Possibly 4 years probation and 90 days of electronic home monitoring.
Needless to say, when word of the pending plea deal came out last month, it angered a lot of people and rightly so!
"It makes no sense," said Brent Wagner.

His organization, St. Bernard Rescue Colorado, placed three of the surviving dogs in foster homes.

"It's not like it's lack of evidence," Wagner said. "Jeez, they've got carcasses… What does it take?"

Heidi Bridges of Westminster, who is caring for one of the dogs, was equally angry about the deal.

"Absolutely atrocious," Bridges said. "How many dead animals are there because of this man's actions?"

Jennifer Thomaidis, a Denver attorney specializing in animal law, says the case sends the message that animals are disposable property.

"The abuse in this case was pretty excessive and I don't think the punishment fits the crime," said Thomaidis.

Prosecutors had called details of the case "shocking." Some of the dead dogs were so badly malnourished investigators could not determine their breed.

"We haven't seen anything remotely like this," said Wagner. "It's so unconscionable." (9 News)
And now word comes down that Tagtmeyer's attorney accepted the plea deal this week and it will be finalized in December. This cruel killer isn't even getting a 'wrist slap'!!
And why? Well, for some reason no one is allowed to really say why because all this is still going on but a written response from investigators blamed the state of the case on "a significant issue that could result in all evidence being suppressed."
A letter to District Attorney Robert Watson from The Humane Society of the United States urged Watson to "seek punishment that fits the severity of the alleged crime."

The letter said Humane Society members have "expressed outrage over what they perceive to be a lack of justice" and went on to say, "The crime of starving dozens of animals to death is an appalling act of cruelty that warrants significant jail time, in addition to a ban on animal ownership."

In response, Chief Investigator Dog Copley wrote, "We fully understand your frustration, and also recognize that you do not have all the relevant facts at your disposal."

"In this case there is a significant issue that could result in all evidence being suppressed," Copley wrote. "I can't relate the specific issue, but can advise you that it is the reason for the negotiation that is causing your concern."

Prosecutors declined to comment on the mishandling of evidence, citing a gag order in the case. In a statement, the district attorney pledged to discuss the problem once the plea deal is finalized.

The initial evidence gathering at Tagtmeyer's kennel was handled by a Kit Carson County Sheriff's deputy and an animal welfare investigator from the Colorado Department of Agriculture. (9 News)
What the hell is wrong with people?! They've got a kennel that belongs to this waste of human life, a revoked license, history of problems and failed inspections and of course 40 dead dogs that were cruelly starved to death and they can't figure out a way to put together some kind of a case that will hold up to send him to jail?
Words cannot even begin to express what I think and feel about this appalling, insane, unbelievable situation. Travesty of justice is far too mild a phase! I can't even continue…
Email This Post
Like this post? Subscribe to my RSS feed and get loads more!