The long awaited animal cruelty trial of DeShawn Brown is finally underway. Brown faces charges of animal cruelty and use of a deadly weapon, a third-degree felony punishable with up to 10 years in prison if convicted.
In April of 2006, two men found a young female pit bull in horrifying condition and took her to Operation Kindness shelter. Initially it was thought that she was stabbed, dragged and doused with corrosive chemicals. It soon became clear though, what
happened to the poor dog, named Mercy, by shelter workers.
"It was horrifying," said Jonnie England with Operation Kindness. "One side looks like she'd been drug behind a car. The other side looks like multiple stab wounds."
This is "one of the worst cases of apparent abuse that we have seen," said England. "The vet thought that she had suffered chemical burns on her body and inside her ears," said England.
She has been brutally cut, stabbed, doused with gasoline and set on fire. Despite the intensive efforts of veterinarians and workers, after ten days Mercy succumbed to her injuries and died.
When confronted, Brown gave two different stories of how 'Brandy,
wound up with burns over 60% of her body. First he told the police that she bumped into a grill then days later he told them he owed some guys some money and they burned her in retaliation.
Witnesses though told a wholly different story. A woman came forward and told how Brown tried to get his female to mate with her male. When things didn't work out she said he got angry and repeated kicked the dog.
The woman followed Brown "at a distance and next observed his dog to have cuts (and) stab wounds."
Another man said saw Brown's dog on fire and running through the parking lot; he later saw Brown carrying a gas can, the reports said.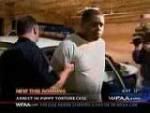 After an intensive investigation, Brown was arrested and charged in the torture and abuse death of the sweet natured dog named Mercy by those who tried to save her life.
Operation Kindness volunteers, staff and community members had some closure in the death of Mercy, a 10-month-old puppy, after a memorial service and
an arrest in the case.
The no-kill shelter held a memorial service for Mercy in April after receiving a large amount of response about her case. Hundreds of people gathered at Operation Kindness to honor the life of Mercy. A memorial service was held and afterward people passed by her spot placing candles and trinkets. "One of our staff members wrote a poem from Mercy to everyone who supported her," said Jonnie England, Operation Kindness executive
director.
Music artist Maria Daines was so moved by Mercy's story that she wrote a song dedicated to Mercy's memory and the tragedy that she endured. To listen to the song and read the lyrics, click here.
On August 3, the Dallas County Grand Jury today indicted DeShawn Quatrail Brown of a 3rd-degree felony for killing Mercy.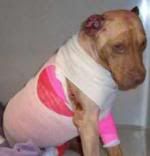 The 3rd-degree felony indictment is for Cruelty to Animals With the Finding of a Deadly Weapon, which carries a maximum 10-year prison sentence. Brown was originally charged with a State Jail Felony, which carries a maximum of 2 years in prison.
In mid July, 2007, DeShawn Brown turned down a plea deal that would have sent him to prison for eight years.
Jury selection in the trial began Monday and opening statements were schedule for 9 am Tuesday.
Browns mother, Sandra claims her son is innocent and that she never got to tell her side of the story, "He would never hurt a dog. Public opinion is that he did this, without hearing the facts. And to me, that is an injustice not just for my son, but for anybody that is facing any type of situation in court. He loved that dog. He loves all of his dogs," said Sandra. "He still has his dog from when he was a small child."
"Everyone is innocent until proven guilty in our justice system," said Jonnie England with Operation Kindness. "From what evidence I've seen and heard throughout the last 17 months, I think that the state has as strong case. It is personal for me and many of us here. She's become a symbol for animal cruelty, I think, and victims of animal cruelty."
Sources- CBS TV 11