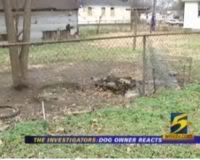 Antoine Draper filed a police report, he brought forth witnesses to the cruel heinous crime but still the criminal walks free.
MiMi, a 2 year old pit bull that Antoine Draper left with his brother was doused with gasoline and set on fire as she gave birth to her puppies by Draper's brother's ex-girlfriend in a stoned fit of rage and vengeance against Draper's brother.
Antoine said it was like parting with a child when he sent MiMi to live with his brother temporarily.
"From a puppy I fed her with a bottle. From the time she was born," Draper said.
Then, just days before Christmas he got a call which would turn his life upside down and make him sick to his stomach, someone had set his MiMi on fire as she was birthing her puppies. When he got to his brother's, MiMi was still burning and to make matters even worse, this was no 'stranger' crime.
"I found out later on it was my brother's girlfriend who was mad and high. She sent her friend to get gasoline to kill my dog to hurt my brother. She thought it was my brother's dog. But it was actually my dog," Draper said.
And now, a month later, the MiMi's remains still sit in the yard, a cruel testament to the crime and the criminal walking free.
"It was sick! You gotta be real cruel. Messed up in the head…to set a dog on fire. Somebody who ain't did nothin' to you," Draper said. "There are people tellin' y'all she did it. Why y'all ain't did nothin' about it? Y'all hung Mike Vick for doing it. He just fought a dog! This is somebody who's out here, poured gasoline on a dog and watched it burn."
This crime cannot go unpunished! Lend your voice in calling for Justice for MiMi!
Please Sign the Petition then share this story with everyone you know. Just clink on that little email icon and email this to anyone and everyone who you think will care about justice!!
Call, email, write, fax!!
MEMPHIS POLICE DEPARTMENT EMAIL AND PHONE NUMBER
tara.bowen@memphistn.gov
201 Poplar Ave
Memphis, TN
38103
901-545-5700
CITY OF MEMPHIS CONTACT INFO:
The Online Support Center links you to the (MCSC) Mayor's Citywide Call Center, which operates as a primary information resource center for both city government and the citizens of Memphis. The Center links questions, comments, complaints and suggestions from the public, to the appropriate division of city government for resolutions of problems and complaints.
You can also contact MCSC by phone during normal business hours (8:00 a.m. – 5:00 p.m. Monday through Friday) via the contacts included below for your convenience.
Phone: (901) 576-6500
Fax: (901) 576-6200
TTY: (901) 576-6501
MAYOR OF MEMPHIS
Contact Information:
Mayor A C Wharton, Jr.
160 N. Main Street, Suite 850
Memphis, TN 38103
Voice: (901) 545-4500
Fax: (901) 545-4759
email – acwharton@shelbycountytn.gov
UPDATE – I received an email from a reader who had problems getting through on any of the phone numbers listed and this is another one – 901-545-cops
Thanks Robin!
Source – WMCTV