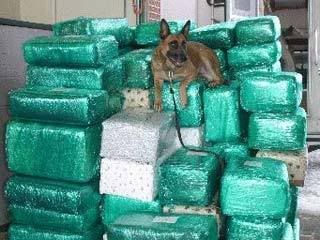 Meet K-9 Officer Rocky, now that's a good dog!! Assigned to the Douglas County Sheriff's Office in Omaha, Nebraska, Rocky sniffed out 90 packages, approximately 1940 lbs of marijuana with a street value of about $3 million dollars!
On Wednesday afternoon, Douglas County deputies stopped and searched a camper along I-80 east, near the 96th Street interchange, on Wednesday afternoon after seeing its license plate was partially obscured.

The driver, Stanley L. Suojanen, 28, appeared nervous, Marty Bilek, chief deputy for the sheriff's office said. He also denied deputies entrance when they requested to search his camper. That's when drug dog, K-9 Officer Rocky was brought in to do his job. Rocky and the deputy circled the vehicle as per procedure
Rocky, a Belgian Malinois, then did exactly what he had been trained to do, he sat quietly and stared at the vehicle. "If the dog is on to something, that's it," Bilek said.
That when they opened the camper and found 93 packages of marijuana. Most wrapped in green plastic but some packaged in Christmas wrapping .
"We're going to say without hesitation that this is the largest seizure of marijuana of the history of the Douglas County sheriff's office," Bilek said. "And it's one of the largest in the state of Nebraska, but there's not exactly a Guinness Book of World Records for drug seizures."
Suojanen was charged with intent to deliver marijuana, a class 3 felony in Nebraska, punishable by one to 20 years in prison, and a $25,000 fine. He is being held by Douglas County officials and will face charges in state or federal court, depending upon the decision of prosecutors.
Belek called I-80 a drug pipeline bring drugs from Mexico and California to eastern destinations so they didn't expect to find money in the cache, just the 'money crop.'
Now that 'money crop' will be burned aside from a small amount needed for evidence and the vehicle will be turned over to the bank and Suojanen will get what's coming to him too.
As for Rocky, I'm quite sure he will be amply rewarded for his work! Go Rocky! 🙂