Kids Burning Puppies in Detroit
Tuesday, November 6th, 2007 at 7:08 am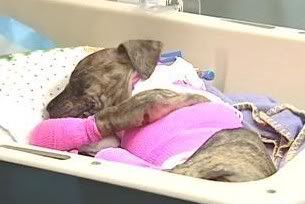 Update 2/12/09 – More Than a Year Later, How's Miracle, the Puppy Tortured & Burned by Kids? VIDEO
What the hell is wrong with kids these days?? This is just unbelievable!
Police reported that a neighbor saw some teens carry some puppies into a house in the 7400 block of Faust on Saturday evening and then come running out when the house caught in fire yelling 'Fire!'
Officer Jennifer Halfacer and partner, Officer Calvin Davenport were first on the scene.
"We heard the puppies squealing and screaming," said Halfacer. "But we couldn't go
upstairs where they were because of the flames."
Only one puppy survived, her four litter-mates, two of which were found 'hog-tied', didn't survive the blaze.
The officers rescued the surviving 4 lb 8 week old black and tan pit bull puppy, dubbed Miracle, and took her to Almost Home Animal Rescue and then to the Oakland Veterinary Referral Services for treatment.
Miracle, who will need intensive care and many surgeries, sustained third-degree burns
over 20 percent of her body, second-degree burns over 20 percent of her body and first-degree burns over 40 percent of her body.
"We are really worried about the amount of burns on her body and about sepsis and infection setting in," said Jim Thompson, the director for the Oakland Veterinary Referral Services in Bloomfield Hills.
"She's on antibiotics right now in case pneumonia develops and for the burns," said Dr. Karen Fidell, a veterinarian at the hospital where Miracle was taken.
"It's pretty pitiful that someone would do something like this," said Fidell.
"I was glad to see that she made it and that not all of them perished," said Halfacer about the puppies' ordeal. "(Miracle) actually survived. I can't believe. She made it."
Two charity groups are providing for her care, but they need donations to pay for the extensive treatment.
Almost Home Animal Rescue League
248-9393071
almosthomeanimalrescue.org
Oakland Veterinary Hospital
248-334-6877
http://www.ovrs.com/
If you would like to help Miracle with a donation, you can send checks to the Oakland Veterinary Referral Services at 1400 Telegraph Road in Bloomfield Hills, Mich. 48302.
As of now, no word on the 'teens' who committed this atrocity.
Source – Click On Detroit , The Detroit News
Email This Post
Like this post? Subscribe to my RSS feed and get loads more!