LA Crackdown on Animal Abuse Bringing Results – Why Isn't Everyone Doing This?
Monday, February 9th, 2009 at 8:37 am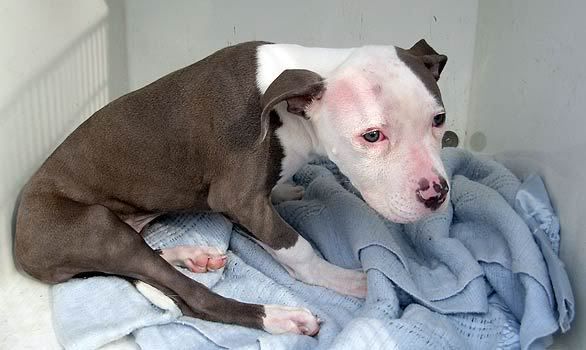 "Los Angeles has become a national model for its stepped-up enforcement of animal cruelty laws, animal welfare experts said." The biggest reason for this is that they not only recognize the link between animal abuse and other crimes such as child abuse, domestic abuse and other violence, they formed a task force do actually do something about it.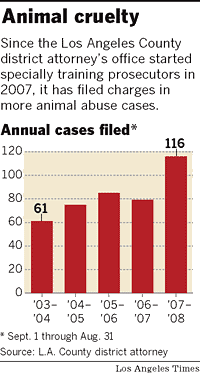 The LAPD has five officers and a detective trained and devoted to investigating animal abuse and neglect cases and their DA's office recently began training a group persecutors to handle these types of cases and to get tougher sentences for repeat offenders.
The number of cases that the LA district attorney's office has filed has almost double in the past 12 months. They are taking this seriously, as they and as everyone should.
The efforts by L.A. authorities and others throughout the country have been propelled by a growing public disgust for such abuse and mounting evidence of a link between animal cruelty and other types of crime. (LA Times)
"As a society, we're just less tolerant of unnecessary and unjustified cruelty to animals," said Dale Bartlett, deputy manager of the animal cruelty and fighting campaign at the Humane Society of the United States.
The Los Angeles City Council created the Animal Cruelty Task Force in 2005, following a proposal by Councilman Tony Cardenas. In backing the measure, LAPD officials cited studies finding that animal abusers were often involved in other crimes such as drug trafficking, child abuse and domestic violence.
This is something that other major cities need to emulate and there is no reason why it cannot be done!
It has long been known and recognized the link between animal abuse and interpersonal violence.  Whenever our judicial system hands down another "slap on the wrist" sentence for animal abusers, they are sending a strong message to them and to everyone that they don't get it.
Isn't it past time for our judicial system and our lawmakers to start taking animal abuse seriously?  It's time to stand up and speak out for those without the voice to speak for themselves!  It's time to demand justice for the innocent victims and for the future victims.  If LA can do it, why can't other cities?
People, officers and our legal system have got to stop looking at animal abuse with an "it's just a dog" or "it's just an animal" kind of philosophy.  People who abuse and neglect animal needs to see that it is a crime and they will be arrested, prosecuted and sentenced, seriously sentenced for their crime.  Out system of law and order needs to recognize and accept that animal abusers are just one small step away from abusing people.  Animal abuse in itself is horrific enough and even if they don't care about the animals, what about the next victims?
"None of the people we arrest think they could go to prison for hurting a dog or a cat," LAPD Det. Susan Brumagin, a member of the Animal Cruelty Task Force said. "They don't show remorse. . . . They're more shocked and surprised."
As Deputy Dist. Atty. Deborah Knaan, a former manager in the city's Department of Animal Services who oversees the animal abuse cases in LA says, "They cannot talk. They cannot get away. . . . They're totally vulnerable," she said. "It's our huge obligation to them to take care of them."
Email This Post
Like this post? Subscribe to my RSS feed and get loads more!