Leona Helmsley's Dog Touble Bequeathed a $12Million Trust
Wednesday, August 29th, 2007 at 10:44 am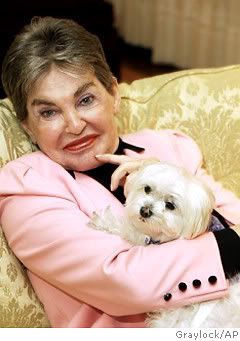 We've all heard of people leaving bequests in their will to their pets, well the notorious 'Queen of Mean,' Leona Helmsley has to top the list! Her little Maltese, Trouble, has a $12 million dollar trust set up and will continue to live in the lap of luxury. And when the pup's time is up, Trouble will even be buried 'in the lap of luxury' with Leona, husband and son in the 1,300 square foot Helmsley Mausoleum.
Eight year old Trouble is a notoriously picky pup who lives up to her name. A gift from one of her advisers, John Codey, Trouble wouldn't eat normal dog food. Her meals were gourmet, prepared by a chef and hand fed to her by one of Helmsley employees. Helmsley didn't think twice about disrupting service in the kitchen of her Park Lane Hotel – where she lived – by insisting that the chef drop whatever he was doing to make special meals for the cranky canine.
There was no individual bequest larger than that to the dog. Even her brother, Alvin Rosenthal, who will care for the pooch, was only left a paltry $10 million. She cut out two of her grandchildren, all of her great-grandchildren and except for other miscellaneous, rather minor, considering her wealth, bequests, the majority of her estimated between $4 and $8 billion dollar estate will go to various charities through the Leona M. and Harry B. Helmsley Charitable Trust.
Helmsley's former real estate rival Donald Trump said, through his spokeswoman Rhona Graff, "The dog is the only thing that loved her and deserves every single penny of it."
Other pets set up in style by their illustrious owners include;
Tobacco heiress Doris Duke left $100,000 to care for her pooches – Minnie, Foxie, Rodeo and Robert – when she died in 1993. A judge upheld it.
Singer Dusty Springfield wrote her California ragdoll cat, Nicholas, into her will before she died in 1999 and insisted he feast on imported baby food.
Actress Natalie Schaefer, who played Mrs. Howell on "Gilligan's Island," reportedly left a fat chunk of her estate to her poodle.
Actress and animal activist Betty White reportedly has a will that leaves $5 million to her pets.
Oprah Winfrey is believed to have made postmortem arrangements for cocker spaniel Sophie and her other dogs.
If you're interested in reading the whole story about Helmsley and her will, you can check it out The New York Post
Email This Post
Like this post? Subscribe to my RSS feed and get loads more!