Leona Helmsley's Money Not Going to the Dogs After All
Thursday, February 26th, 2009 at 7:53 am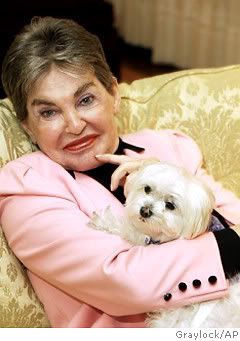 Well, not all of the charity trust anyway.  The trustees of The Leona M. and Harry B. Helmsley Charitable Trust filed a petition with the court that they be allowed to dispense the trust money to charities as they chose and Judge Troy Webber of Surrogate's Court in Manhattan handed down a decision to approve the trustees petition.
"[T]he court finds that the trustees may apply trust funds for such charitable purposes and in such amounts as they may, in their sole discretion, determine."
Looks like all the "dog" charities and organization that have been clamoring for their piece of that pie can get out of line now. The trustees are going to be putting together a list of charities to make bequests to in many different fields including health care, medical research, human services, education, and various other areas. They'll be announcing their initial grants starting next month.
In 2004 Helmsley revised the mission statement of the Trust that ordered that the money should be used for "purposes related to the provision of care for dogs." Prior to the revision the statement mandated that the money would provide health care for the poor, with an emphasis on children. The Trust is estimated to be in the 5-8 billion dollar range.
The problem is that the "mission statement" is just that, a mission statement and was never incorporated into her will so has been seen as not legally binding.
Now, aside from the fact that I am a dog and animal person so of course I would love to see some serious bucks go to some really deserving animal, pet and dog organizations and by that I don't mean the big ones who just use their money for propaganda, I mean organizations that actually do hands on work with abandoned, neglected and abused animals, the other thing that ticks me off is how little a person's last wishes actually count for anything.
First the courts decide that Helmsley's 12 million dollar bequest to her beloved dog, Trouble, is not appropriate so they cut it.  Then they hand out $6 million to each of two family members that she specifically disinherited in her will.  Now they've found a way around her request that her Trust money dog to welfare of the dogs.  The family seems to be happily ignoring everything that she wanted to happen with her money now that she can say or do anything and the courts are just merrily going along.
To me it is just obscene that a person's last wishes would be so blatantly ignored.  It's the principal of the issue.  Looks like if you have money you can get people to do what you want while you're alive but after your death, all bets are off and the notorious "Queen of Mean's" family are doing whatever they want with legal blessing.
Email This Post
Like this post? Subscribe to my RSS feed and get loads more!