Lifeguard Dog, Bilbo, May Be Allowed to Return to Post
Friday, May 30th, 2008 at 7:17 am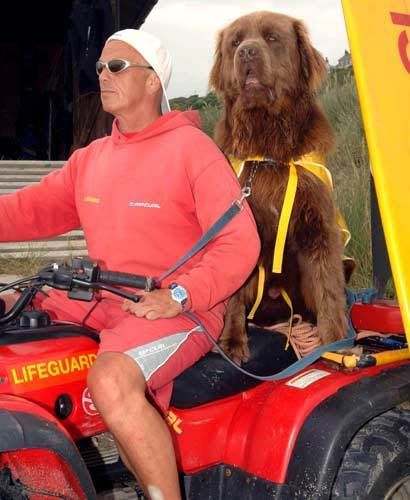 Update 3/30/09 – Bilbo, Lifeguard Dog, Finally Reinstated
Due to much public outcry after RNLI sacked Bilbo, Britain's only lifeguard dog, Bilbo, RNLI is reconsidering allowing him back on the beach.
The 7 year-old, almost 200 lb. Newfoundland has been credited with helping save three lives at Sennen Cove in Cornwall and as well as being a popular attraction, he also carries out safety demonstrations.
Since the announcement there have been petitions and campaigns, phone calls and support country-wide.
Steve Jamieson, Bilbo's owner, said: "At the moment they're still in discussions but they've said it looks likely that Bilbo will be allowed back.

"I'm delighted because there were so many people who were really upset. Bilbo's popularity is absolutely huge."

He added: "The public pressure has been beyond anything I'd ever expected. People got so enraged by the whole thing that it all came to light.

"People were phoning me from all over the country.

"I'm tremendously grateful for all the support from the public.

"It just reinforced everything that we already thought was good about the work Bilbo does."

Jim McKenna, chief executive of Penwith District Council, said: "We had a very constructive meeting on Friday and we hope to issue a joint press release next week."

A spokesperson for the RNLI said: "We are entering into discussions with Penwith District Council to see if we can work towards a long-term solution."

Several petitions have been organized, and Bilbo's banishment from the beach has touched the hearts of locals and tourists alike.

Maria Boyle, who heard of Bilbo's story while on holiday from London last week, wants to ensure that even if Bilbo is allowed back onto the beach, he cannot be denied access again.

"I think we need to get him recognized with an official accolade for the good work he does.

"I want to get him an official ambassadorship of say health and safety in Cornwall."

Ms Boyle has written to Andrew George MP for advice on how to pursue this, as Bilbo's story continues to attract huge amounts of public support.

A petition started by Mr Jamieson's daughter, Kate, received 720 signatures in just two days, and a Facebook group named 'Keep Bilbo on the beach' now has almost 2,000 members.

Bilbo was allowed on Sennen beach on Tuesday during filming for a Channel Five production about extraordinary animals, due to be broadcast at the end of June.

Mr Jamieson hopes this will again become the norm, rather than the exception. (The Telegraph)
What good news!! Dogs give us so much and it's nice to see this big guy recognized and appreciated for who he is and what he does. Keep up the support people, you'll have Bilbo back in no time!!
Email This Post
Like this post? Subscribe to my RSS feed and get loads more!