Lifesaving Lifeguard Dog Given the Boot! VIDEO
Monday, May 19th, 2008 at 7:51 am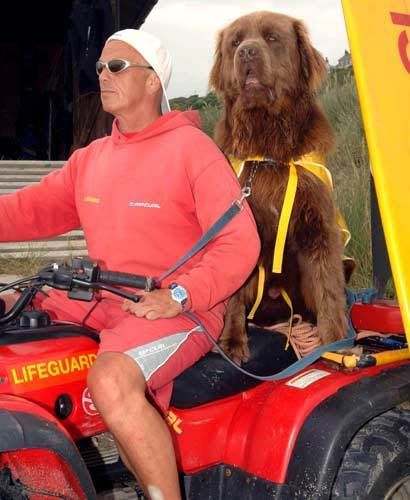 Update 3/30/09 – Bilbo, Lifeguard Dog, Finally Reinstated
Bilbo, a 7 yr. old, almost 200 lb Newfoundland and trained lifeguard credited with saving at least three lives has been given the boot by RNLI, Royal National Lifeboat Institution.
Regularly seen riding a quad along the beach with his owner, 54 yr old Steve Jamieson, head lifeguard at the beach in Sennen, near Land's End in Cornwall, UK, Bilbo was not only a lifesaver but doggie spokesperson and attraction. Bilbo, who had to pass fitness and swimming tests before he could join the beach patrol, wore a lifeguard's vest which carried a number of safety messages on it, warning swimmers about the dangerous areas. He's trained to swim around struggling bathers and after they grab the float fixed to his harness he paddles to safety. His huge size and love for the water make him perfect for the job.
"Everyone loves him and he's become an indispensable part of the team," said Steve Jamieson. "If an alert comes in, his ears start twitching and he knows something is on.
RNLI, which was recently contracted to provide lifeguard services, has decided that Bilbo's services are no longer needed.
A spokesperson for RNLI said, "The RNLI is contracted to provide a professional lifeguarding service on the beach and has fully trained lifeguards to do this. "Bilbo is a privately-owned dog and does not belong to the RNLI. The RNLI will not be using the dog to save lives at sea."
"We can't employ a dog as a guard. They are banned from the beach," and added, "He would fail the resuscitation test."
Bilbo has been on TV, has a book written about him and had over 6,500 hits on his website.
Steve Jamieson was shocked and dismayed at the decision, "It's a scandal, an absolute disgrace. Bilbo has had fantastic support."
How sad for Bilbo and those who love and support him. Maybe the public will raise enough support to bring Bilbo back. With dogs in service positions all over the world, helping people and saving lives, it's disappointing that RNLI is overlooking all the incredible benefits of having him as a member of the team. Shame on you, RNLI!!
Check Bilbo out in action!
Email This Post
Like this post? Subscribe to my RSS feed and get loads more!