Lion Cub and Dog Become Fast Friends
Friday, June 22nd, 2007 at 7:00 am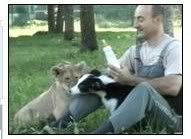 And here's a rather unusual pair-up, a lion cub and a dog! This comes to us from Italy.
Lions are known for being the king of the jungle, and not typically regarded as 'friendly' to other four legged creatures, but there's a lion cub in Italy that's changing that perception.

The lion cub has found protection and friendship from a dog. He was abandoned by his mother who did not have enough milk to nourish him. He is being raised at the "Parco Natura Viva" of Bussolengo, which is a zoo-type facility that protects endangered animals.

To make the lion's life as serene as possible, a dog was put at his side, and now they've become best friends. They are practically inseparable. (CBS4)
Email This Post
Like this post? Subscribe to my RSS feed and get loads more!