Little Dog Survives Brutal Bashing
Tuesday, February 3rd, 2009 at 6:40 am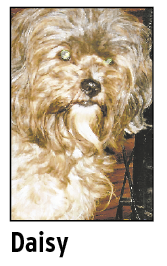 Brittany Bennett's little 3-year-old shih tzu poodle mix, Daisy, is recovering today after being bashed against a wall by Bennett's sometimes boyfriend.
The Illinois woman returned to her home Sunday to find Daisy covered in feces with blood coming out of her mouth.  She couldn't stand and was unresponsive.  There was also a large hole in a wall which had been covered with a picture and feces smeared on the wall and floor.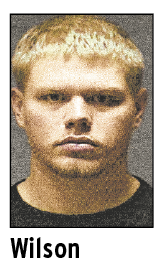 Another surprised was finding her sometimes boyfriend, Christopher A. Wilson, in her shower.
Bennett thought that maybe Wilson, who she is now completely done with, threw her Daisy against the wall after she bit him the police found no bite marks on Wilson and have pretty much ruled that out.
Police picked up Wilson after he left Bennett's house. They found him walking down the street and when they questioned him, he denied being Wilson and showed the identity card of someone else. They took him to Bennett's house and she identified him.
Wilson was arrested and charged with felony identity deception and cruelty to an animal. He's also being held on a failure-to-appear warrant and has a history of criminal conviction. In 2006 he pleaded guilty to burglary and was sentence to 2 years home detention and 8 years probation. He has a 2006 DWI and is also facing charges of driving while suspended and possession of marijuana. For a young man of only 24, he's already set his life on its downward course.
And Daisy? She wound up with three broken ribs and a fractured paw but is expected to make a full recovery, thankfully. Hopefully Bennett will hold to her vow of finally being done with this worthless excuse for a human being, Christopher Wilson. This is one guy with some serious problems and he needs to be put somewhere that he cannot take his problems out on anyone else. We can only be thankful that Daisy will recover and that there were no children for this idiot to vent whatever anger he had on.
Email This Post
Like this post? Subscribe to my RSS feed and get loads more!