Little Pooch is a Big Hero
Friday, September 12th, 2008 at 9:53 am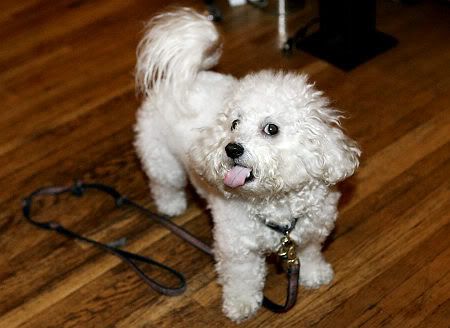 When 85 year old Charles Postler collapsed in his Brooklyn apartment at about 1:30 am on Wednesday morning he was helpless. He managed to grab a pillow and struggle toward the door of his apartment where he lay for hours yelling in vain for help but no one could hear him.
That is until neighbor, Linda Deutsch, was taking her 5 year old Bichon Frise, Lexi, out for a walk at 8 am. Linda thought Lexi was being difficult as the little 12 lb pooch kept pulling at her and refused to get on the elevator. Linda realized that Lexi was trying to take her to the apartment of Charles Postler, who occasionally kept an eye on Lexi.
That's when Linda hear the faint cries for help coming from behind the door. "She kept pulling away," Deutsch said. "I didn't hear anything at first, but then I heard the cry for help."
The building superintendent opened the door and help was summoned for Mr. Postler.
Postler said his 12-pound pal likely recognized his voice. "I've taken care of her a few times, and she always comes to me," he said.
Deutsch said as Postler was being taken from his apartment, he asked for Lexi. "I picked her up and he said, 'Thank you, Lexi.'"
"People say that dogs are man's best friend and this proves it all over again," said Charles Postler, Jr, Mr. Postler's son who is thankful for Lexi's intervention.
Lexi will be recognized with prayers and declared an "honorary saint" next month at St. Patrick's Catholic Church, where Postler has been a deacon for 35 years.
I know that no one needs to tell most of us what absolute wonders dogs can be, whether bonafide heroes, companion or service dogs or just our beloved pets who are always there for us, they're all heroes in our eyes!!
Way to go Lexi!!
Email This Post
Like this post? Subscribe to my RSS feed and get loads more!