Man Charged in Case of Mutilated Pitbull Found in Amsterdam, NY
Thursday, October 23rd, 2008 at 6:25 am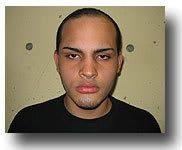 On October 11 when the burned and mutilated remains of a pitbull were found behind an abandoned home on Prospect Street in Amsterdam, NY, the entire neighborhood was shocked and disturbed.
The dog's remains were found wrapped in sweaters then stuffed in a plastic bag and dumped behind the vacant home at 82 Prospect Street.
"We found that it had some paws severed. The tail had been severed. And there were several parts of its torso that appeared to have been burned with something like a blow torch," said Sergeant Patrick Miller of the Amsterdam Police Department.
At the time, police said that had a 'person of interest' but that this person could not be found. We now he's been found and identified as Orlando Rodriguez, 21 of 84 Prospect Street, right next to the abandoned house where he dumped his dog.
A neighbor said that Rodriguez regularly walked the dog until about two weeks before the dog's remains were found when it just suddenly disappeared.
His excuse? Police say Rodriguez told them he mutilated the dog because he was upset that it had died after he failed to take it to a vet.
What??
Rodriguez was charged Tuesday with cruelty to animals, a misdemeanor, and improper disposal of an animal, a violation. He was sent to the Montgomery County jail in lieu of $2,000 bail or $4,000 bond.
This guy has got some serious problems! He's got a sick dog, he refuses to get care for it and according to him, the dog dies. So he mutilates and burns it?? There is something very, very wrong here! He needs some help, in a serious way!
Email This Post
Like this post? Subscribe to my RSS feed and get loads more!