Man Charged in the Killing of Girlfriend's Dog
Friday, August 24th, 2007 at 9:30 am
Matthew John Hodges, 20 of Wichita has been charged with one felony count of animal cruelty and is in the Johnson County jail on $10,000 bond in connection with the July death of his then girlfriend's family's 12 yr old mix breed dog, Dutchess.
On July 27, Czernicki brought Hodges home to meet her family. She'd met him at Wichita State and they had been dating for six months. The following evening Hodges went to a baseball game with Mr. Czernicki and slept in the family's basement that night. The following morning Dutchess was missing.
The family scoured the neighborhood and put up posters for their missing dog to no avail.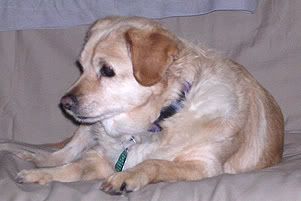 Then on the 31st they started noticing a foul smell and traced it to the ceiling of the basement. Upon removing some of the ceiling tiles they found the body of their beloved dog stuffed about 4 feet back.
She died of blunt force trauma. No motive had been put forth.
The Czernicki's rescued Dutchess from a shelter 12 years ago when she was just a tiny puppy and she has been a member of their family ever since.
"She was the best dog ever," Czernicki said. "The neighbors loved her. She just went in and out of their houses."
The daughter is back in college now but the family cannot forget this. "I have a 15-year-old son who has to live in this house," Czernicki said. "We can't get rid of the smell."
A comment posted by 'Brother' says, 'The Hodges family stands behind Mathew in regards to the animal cruelty charge, but the cover up is unexplainable. Our family has had multiple pets over the years with no history of violence or cruelty. A good kid is going to get destroyed over a unfortunate event, but instead of confessing to the killing, he tried to hide it and he regrets this with all his heart.'
Hodges was in court yesterday and was appointed a public defender.
Email This Post
Like this post? Subscribe to my RSS feed and get loads more!