Man Cruelly Hangs Neighbor's Dog
Wednesday, June 11th, 2008 at 10:32 am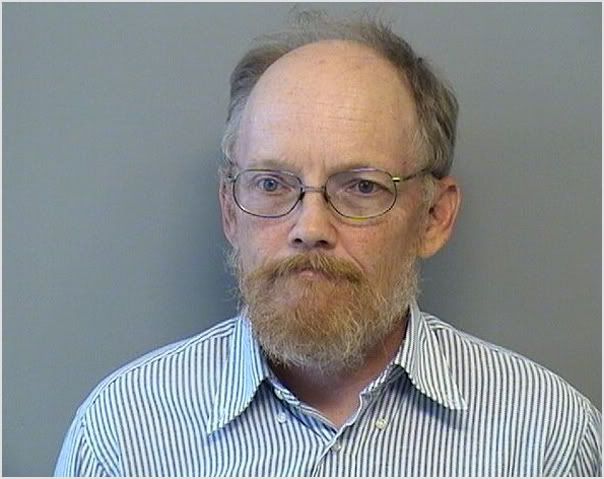 George was a black lab mix stray that Leah Owens and her family adopted in after they found it wandering the neighborhood a few months previously. Sweet, passive and friendly, he was loved by the family.
"He was so incredibly passive and was so laid back," she said. "He would just lie there like a rug."
On May 24, while the Owens family was away for a couple of days on vacation, George wandered onto a neighbor's property, George Henry Roberts, 59, who lives in a wooded area in the 13100 block of South 125th East Avenue in Broken Arrow, OK.
Roberts, who neighbors said had threatened to kill their pets if they ever wandered onto his property did just that to the poor dog. He tied the dog and hanged him from a tree.
"Neighbors were driving by and saw him string up a black Labrador mix," Assistant District Attorney Steve Kunzweiler said.
The Tulsa County Sheriff's Office was called and when deputies showed up, they found the dog still strung up.
The Owens family who lives about 100 yards from Roberts returned from their vacation 2 days after he had killed their dog and didn't even find out about it until two weeks after that. Two long futile weeks of searching for George; scouting the neighborhood and contacting shelters.
They finally found out only when deputies interviewed them to try to find out who owned the dog that was Roberts hanged.
Owings was devastated that someone would kill her dog.
"I just cried. It made me sick," she said.
"He's basically an animal hater," Deputy David Long said of Roberts.
The Tulsa County District Attorney's Office filed animal cruelty felony charges Monday and deputies are in the process of obtaining a warrant to search Roberts' property, where they believe the dog's remains have been buried, Long said.
An arrest is expected to be made this week.
This is one seriously sick and scary man to do something like that to a sweet, innocent dog!! And before anyone asks, no clue on what the dog was doing wandering while its family was away. Regardless, NO ONE has the right to do something so cruel, heartless and vicious!
Roberts was arrested yesterday, without incident, when deputies arrived with a search warrant. He would not discuss the charges with deputies but did let them know that he'd already gotten a lawyer.
Although it is believed that Roberts buried the dog's body on his property, deputies we not able to find the remain yesterday. They did find other unspecified evidence linked to the crime though.
A guilty verdict for felony animal cruelty can carry a five- to 10-year prison sentence, depending on previous offenses and the severity of the crime
Email This Post
Like this post? Subscribe to my RSS feed and get loads more!