Man Decides Disabled Dog Rabid, Shoots and Decapitates It – VIDEO
Wednesday, December 31st, 2008 at 12:16 pm
A Standfordville, NY man, Stanley Jablonka, 50, decided a dog that belonged to a friend staying with his family was potentially rabid and rather than turn to authorities, he took matters into his own hands  shot the dog then decapitated it.
The 3-year-old Great Dane, Humphrey, belonged to Tracey Sturgess, his ex-wife's sister who was staying with Jablonka while he fixed her car so she could be on her way to California. Not only was Humphrey up to date on his shots, he was also blind and deaf and chained up in the garage at night for his own safety and this was where the atrocity took place.
Jablonka's brother, Michael said the dog was aggressive and was barking at him and had him pinned. When Jablonka was told he decided the dog probably had rabies so he shot him and being the real brainiac figured he had to chop the poor dog's head off so it could get tested for rabies, even though Tracy had shown him Humphrey's up to date vaccination prior to that.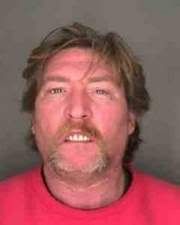 Sturgess said that Jablonka's brother woke her up around midnight Sunday and told her there was a problem with her dog.  She rushed out only to find a pool of blood but no dog and that was when they told her they had shot Humphrey and cut off his head.
"[Stanley] tried to say that the dog went after his brother," she said, "but they shot the dog at the end of the chain. He was chained."
Sturgess told people there that she was calling the police. Jablonka, she said, told her she could be shot.

Another person replied, "'It won't be as easy to shoot her because she wouldn't be chained to a wall,'" Sturgess said.

She said there was at least 10 witnesses to the killing, including children, one of whom is 12 years old.

Sturgess said the killing of Humphrey is probably the saddest moment of her life. During an interview, she broke down in tears several times.

Sturgess said she was in the process of writing a children's book, "The Adventures of Humphrey, the Handicapped Canine," to help educate people about those with disabilities. (Daily Freeman)
"It's a horrible act of violence," Joyce Garrity, executive director of the DCSPCA said. "I'm extremely distressed."
Just imagine, a blind and deaf dog, chained, in an unfamiliar environment, now would you expect he would probably be scared and wary, especially when people he doesn't know come around him. By all accounts, Humphrey was known as a friendly and non-aggressive dog. Sturgess said Humphrey was well known in her previous hometown of Woodstock as being a sweetheart.
Even if for some reason the dog was acting aggressive, he was chained.  Sturgess chained him at night because she wanted to make sure that Humphrey was protected in case anyone came in and startled him and anyone coming around the blind and deaf dog was safeguarded as well.  A normal, sane person would have just stayed away from the dog and gotten the owner to deal with the situation, not resort to such a heinous act or they could have called animal control or the police.
Early Sunday morning police arrested and charged Jablonka with a misdemeanor violation of the state's Agriculture and Markets Law. A misdemeanor! He shot and decapitated a defenseless, disabled dog! What the hell is this world coming to?
Disabled dog shot and decapitated
Email This Post
Like this post? Subscribe to my RSS feed and get loads more!