Man Guilty of Animal Cruelty – Beat Chihuahua to Death with Shovel
Wednesday, May 14th, 2008 at 5:49 am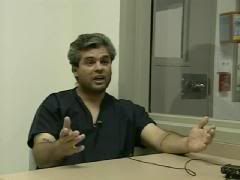 Update – 6/20/08 – Joseph B. Trujillo Sentenced – See below
Joseph Trujillo was a real big, bad man last November when he took his mother-in-law's little Chihuahua, Chicolin, into an alley and beat it to death with a shovel then tossed its battered and broken body into a trash dumpster.
Chicolin, a five year old stray Chihuahua that Elaine Ulibarri took in when he wandered into her yard was by all accounts a feisty little dog but was well loved as were all the dogs that Ulibarri had.
"He was a little orphan who wandered into my yard," she tearfully testified. "I took him in. I really miss that little dog."
On that fateful November 4th, Trujillo, whose wife said didn't like the little dog, grabbed him by the scruff of the neck, took him out to the ally where a neighbor actually saw him bash the dog on the head four or five time.
At the time of Trujillo's arrest, Eric Bernal, was going to report the incident anonymously but when Trujillo continued to claim he was being falsely accused, Bernel decided he would testify in court.
"I know he's lying because I watched him do it," Eric Bernal said. "I actually saw him carrying the dog to back by the scruff of the neck. The dog was yelping or screaming. It was really disturbing."
Trujillo's wife Carla testified that he didn't like the dog, that once when it defecated in the basement of the house they shard with her mother, he took the dog's feces and mixed it in with food and fed it to the dogs.
The day the dog was killed, she saw him grab the dog and take it out to the alley.
"I thought he was spanking the dog for biting my cousin," she said. "I just heard the dog crying out for mercy with abnormal howling. I never heard a dog make a noise like that."
"He was dead and blood was running out of his mouth and nose. I just started crying," she said of when she found the tiny dog's battered body tossed in the dumpster behind her mother's home in the 100 block of South Bryant Street.
Prosecutor Diane Balkin said Joseph Trujillo "beat this chihuahua to death for no reason. There is absolutely no excuse, no justification for what he did."
Trujillo's defense attorneys said the case against him was "overblown."
Now convicted of aggravated animal cruelty, Trujillo faces a maximum sentence of 18 months in prison. This is not Trujillo's first brush with the law either, according to public records, Trujillo has a criminal record in Colorado and Kansas and served four years in prison for theft.
Let's hope the judge sentences this piece of trash to an 'overblown' sentence now and throws his worthless ass in jail for the maximum allowable time.
Trujillo was sentenced on 6/20/08 to 6 years in prison for the cruel beating death of his mother-in-law's Chihuahua.
Email This Post
Like this post? Subscribe to my RSS feed and get loads more!