Man Kicks Tiny Dog to Death for "Eyeballing" Him – VIDEO
Thursday, December 4th, 2008 at 9:24 am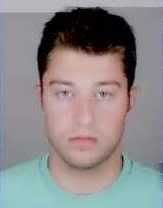 Marc E. Dash, 24, of Tonawanda, NY, didn't like the way his girlfriend's little dog, a 10 month-old Shih Tzu puppy named Grace, was looking at him so he kicked the dog down the stairs to its death.
Dash was arrested and charged with felony aggravated animal cruelty.
Dash admitted kicking the dog down the stairs, police reports quoted him as saying, because ". . . it was eyeballing me, you know, looking at me like it didn't like me."
Dash's girlfriend was at church with her grandmother on Sunday when the crime happened. After kicking the tiny puppy to its death, Marc retrieved a duffel bag from his car, stuffed the dog's body in the bag then hid the bag in his vehicle. When his girlfriend returned from church, he told her that the puppy ran away.
If not for an alert neighbor, Dash may have gotten away with his cruel crime. As the girlfriend searched the neighborhood for her missing puppy, a neighbor told her that Dash was acting strange and has gotten a duffel bag from his car then returned it a short while later.
The girlfriend then made the grisly discovery.
And this is not the first time Dash has been in trouble either, in 2006 he was arrested for an assault on a girlfriend he had then. The charges were reduced to harassment and the young woman had a protection order against Dash. Unfortunately this left Dash on the streets and able to find another victim, this time a tiny, innocent and defenseless puppy.
Dash will be in court in early January. Hopefully the judge in the case will not be so lenient and Dash will find himself behind bars for an extended stay.
Marc E. Dash Killed Puppy for "Eyeballing" Him
Email This Post
Like this post? Subscribe to my RSS feed and get loads more!