Man Kills Family Dog with Samurai Sword
Wednesday, July 16th, 2008 at 8:06 am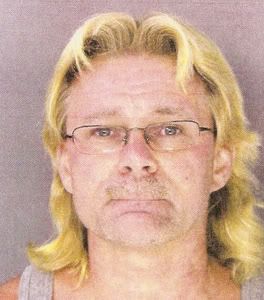 See Update – 11/12/08 – Man Who Killed Dog with Sword Guilty
James Jones, 46, of Ridley Township, PA, has been threatening to kill the family dog, a 3 year old American bulldog mix, Baby, that was adopted as a puppy, for several weeks. Sunday he followed through with his threats.
He knocked the dog in the head causing her to growl at him. Becoming enraged, he took a 30″ long samurai type sword and stabbed the dog in the chest, the blade penetrating 8 inches, then he stabbed her again.
His wife, Pamela, who rescued Baby when she was just a puppy, from the Delaware County SPCA, was devastated.
"She wasn't going to bite him, wasn't going to attack him," Pamela Jones said of the family dog. "He stabbed her in her heart and there was blood squirting all over the place, then all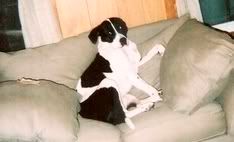 four of her legs got wobbly and she fell to the floor and she bled to death on the floor. Her tongue came out of her mouth and she was gone. I couldn't even help her."
Even the police were stunned at the viciousness of the crime.
"You see a lot of crazy things," said Ridley Township Detective Sgt. Scott Willoughby, a former K-9 officer and 18 yr veteran of the force, "but to kill your own dog with a sword? Jesus Christ!"
Jones was arrested and is being held at the Delaware County Prison on animal-cruelty charges after he failed to post 10 percent of $25,000 bail.
Marries to James Jones for 15 years, Pamela has since taken out an abuse restraining order and is planning to file for divorce over this incident.
"It could have been me," she said of the stabbing. "I'm going to serve him the [divorce] papers when I have to go testify against him in court."
Jones' sisters say that he's a animal lover and was in the military as a young man.
"He loved animals. I don't believe it," said one sister, Frances Jones.
"It's very sad if he did it," said another sister, Janet Brown. "What was going through his mind?"
This is a very scary man and behind bars is the best place for him. Hopefully he will be there for some time to come.
Email This Post
Like this post? Subscribe to my RSS feed and get loads more!