Man Kills Little Dog with Arrows
Friday, December 12th, 2008 at 9:21 am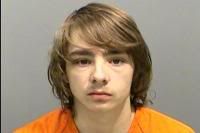 Zackary Scott Ruszka, 20, was supposed to be caring for his girlfriend's family's home after the family was called away on a family emergency. Instead of being the caretaker he was supposed to be, he decided to get drunk and use the family's little terrier dog for target practice.
The home belonged to Jeanette and Dave Pranzo. Ruszka was their daughter, Regina Libeu's girlfriend. Alex Dugan, 21, who also lived at the home with Ruszka, with the family.
Dugan had left the home earlier in the day and when he returned he called the police after seeing the house ransacked and finding Blaze, the family's little terrier, dead in the garage, arrows protruding from the body.
He told police that Ruszka had been drinking large quantities of whiskey prior before he'd left to visit friends.
Police found the living room destroyed, furniture and a guitar smashed and the dog brutally killed.
Zackary Scott Ruszka, 20, was charged with felony aggravated animal cruelty and underage possession/use of alcohol. If found guilty, Ruszka could be sentenced to between one and three years in prison.
Another quality human being in the making….
Email This Post
Like this post? Subscribe to my RSS feed and get loads more!