Man Risked Life Again and Again to Save His Dogs in House Fire
Thursday, November 8th, 2007 at 7:59 am
Again and again Vern Newell returned to his burning house to rescue his dog, even when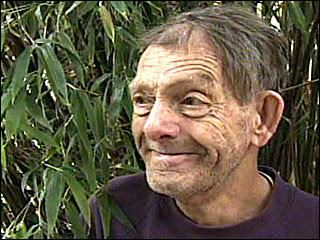 firefighters tried to hold him back
"Well, they're my family," he said of the ten dogs his shared his home with.
"We teach everyone in elementary school that if you are ever in a house fire, get out and stay out," said Kyle McCoy with Fire District 6 who was the first firefighter on the scene. McCoy pulled Newell from the burning house not once, but twice.
"Oh yeah, he tried to hold me back," said Newell. "He had his hands full. I kicked him in the chin, almost."
Newell managed to save all ten of his dogs but his house could not be saved and had to be condemned.
Firefighters had to give one puppy oxygen and the puppy is at the Humane Society just waiting for Newell to go pick it up.
Mike Lerma, a pastor at First Baptist Church in Castle Rock, said Newell is not a member, but volunteers to clean up at the church, and all over town.
"He's just a great guy and we want to do something for him," said Lerma.
A neighbor has already drawn up plans for a new home. Newell does not have insurance.
This is a story you just have to love especially when we hear so often of the atrocities committed against animals, here's a man who risked his life again and again to say his dogs, his 'family'.  And it looks like the community is also going to come to his aid and help him with a new house.  What could have been a terribly sad story
Source – KATU
Email This Post
Like this post? Subscribe to my RSS feed and get loads more!